Turkey, Fennel and Sausage Pasta Bake
Temps des Fêtes 2009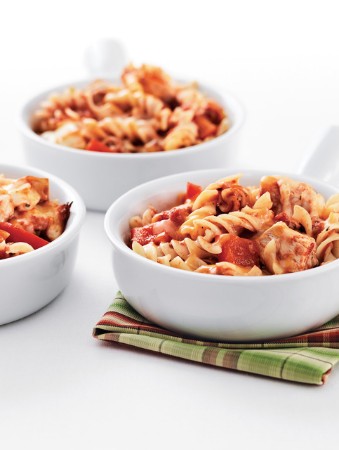 Turkey, Fennel and Sausage Pasta Bake
Temps des Fêtes 2009
BY: Heather Trim
After a lot of sophisticated holiday food, the body craves simple. Grab a few pantry staples, toss with leftover turkey and some fresh vegetables and dinner is ready. This casserole can be prepared ahead, refrigerated and reheated in a 375°F (190°C) oven. Cover for 50 minutes, then uncover and continue baking until hot.
2 tbsp (25 mL) olive oil
3 Italian sausages
1 red pepper, chopped
1 onion, chopped
1½ cups (375 mL) chopped fennel, about 1 small bulb
2 garlic cloves, minced
Generous pinches salt and pepper
1 can diced tomatoes, 796 mL
½ cup (125 mL) red or white wine
2 tbsp (25 mL) tomato paste
1 tbsp (15 mL) Italian seasonings
2 tsp (10 mL) fennel seed
½ tsp (2 mL) hot chili flakes
½ lb (250 g) short pasta, such as fusilli or rigatoni
2 to 3 cups (500 to 750 mL) bite-size pieces leftover turkey
½ of a 340 g mozzarella ball (about 170 g), diced
1½ cups (375 mL) grated old cheddar
1. Bring a large pot of water to a boil. Meanwhile, heat oil in a large saucepan. Slice sausages into bite-size pieces and add to pan along with red pepper, onion, fennel, garlic, salt and pepper. Saute until vegetables are tender, about 8 minutes. Add tomatoes, wine, tomato paste, Italian seasonings, fennel seed and chili flakes. Simmer, uncovered, stirring occasionally until thickened, about 15 minutes.

2. Preheat oven to 375°F (190°C).

3. Add pasta to boiling water and cook according to package directions. Drain well.Add to sauce along with turkey and mozzarella. Stir well.

4. Transfer to a large casserole dish. Sprinkle with cheddar. Bake until hot and cheese is bubbly and golden, about 30 minutes.
SHARE