Toasted Hazelnut & Dark Chocolate Butter Crunch
Holiday 2018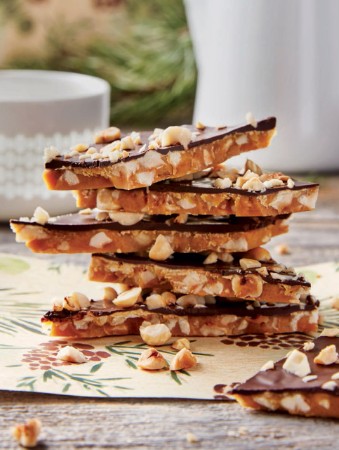 Toasted Hazelnut & Dark Chocolate Butter Crunch
Holiday 2018
BY: Eshun Mott
Hazelnuts, toffee and dark chocolate are a match made in heaven. Perfect for gifting or hoarding, the butter crunch will last well in an airtight container for about two weeks. Candy-making requires your full attention. Before you begin, make sure you read the recipe through carefully and have everything laid out. And if you have a digital instant-read thermometer it will give you better information than a classic candy thermometer.
1½ cups (375 mL) hazelnuts
½ cup (125 mL) unsalted butter cut into pieces
1¼ cups (310 mL) sugar
½ tsp (2 mL) sea salt
2 tbsp (30 mL) water
1 tbsp (15 mL) Lyle's Golden Syrup (or corn syrup).
½ tsp (2 mL) baking soda
½ tsp (2 mL) vanilla extract
5 oz (140 g) bittersweet chocolate, finely chopped
1. Preheat oven to 350°F (180°C).

2. Place hazelnuts on a baking sheet and roast for 12 minutes or until skins have split and nuts are golden. Pour hazelnuts onto a clean kitchen towel and rub with towel to remove skins. Let cool. Chop 1 cup (250 mL) of hazelnuts coarsely and the remainder finely. Working with 1 batch at a time, put the chopped nuts in a strainer and shake off any powdery bits. Set nuts aside.

3. Line a large baking sheet with a Silpat or a sheet of parchment paper, and have a second sheet ready on the side along with a rolling pin. Reserve.

4. Melt the butter in a medium, heavy-bottom saucepan over medium heat. Add sugar, salt, water and golden syrup and stir occasionally until sugar has dissolved and mixture has come to a boil. Turn heat to medium-high and cook until a candy thermometer reads 300°F (149°C). Add baking soda and vanilla and stir to combine. Cook a moment longer or until mixture has become slightly darker in colour and is 310°F (154°C). Add coarsely chopped nuts and, working quickly, pour out onto prepared baking sheet using a rubber spatula to spread it as widely as possible. Lay second sheet of Silpat or parchment on top and use the rolling pin to spread the toffee into an even layer. Remove top sheet.

5. Sprinkle chopped chocolate over toffee mixture, let stand for a minute or 2 to melt, then use an offset spatula to spread chocolate to the edges of the toffee. Shake pan to level the chocolate and then sprinkle with finely chopped nuts. Let stand for 2 hours or until toffee is fully cooled and chocolate has set. Break into bite-sized pieces and store in an airtight container.
SHARE