Spit-roasted Fennel with Anchovies & Burrata
Summer 2017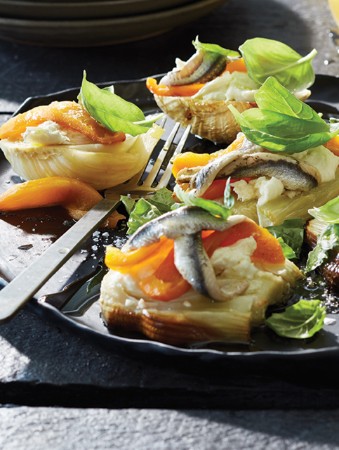 Spit-roasted Fennel with Anchovies & Burrata
Summer 2017
BY: Christopher St. Onge
Years ago, in Spain, I ate a spit-roasted artichoke and swore it was the best thing I'd ever eaten. Since then, I've used the technique at home to great effect and discovered that fennel treated this way may be even more delicious. White anchovies, also known as boquerones, are often found in the refrigerated case nearest the fish department at large grocers. They are oil and vinegar-preserved, have an acidic bite, and are less fishy and less salty than their canned counterparts. Serve this dish as a light lunch, or as part of a heartier multicourse dinner.
2 medium-size fennel bulbs
⅓ cup plus 2 tbsp (80 mL plus 30 mL) olive oil
Salt
2 cloves garlic, peeled
2 roasted sweet bell peppers, peeled and seeded (see TIP below)
14 to 16 oz (400 to 455 g) burrata, drained
16 white anchovy fillets
12 medium basil leaves, torn
1. Set up your gas or charcoal grill for rotisserie cooking and maintain a temperature of 325°F (160°C).

2. Trim fennel bulbs of stems and fronds (save for another use). Thread bulbs lengthwise through their centres onto rotisserie spit and secure with picks. Brush with 2 tbsp (30 mL) of the olive oil, season with salt. Mount in rotisserie brackets and turn rotisserie on; cook for 1½ hours or until tender.

3. Meanwhile, use the side of a large knife to gently crush the garlic cloves, but leave intact. Combine with remaining ⅓ cup (80 mL) olive oil; let stand while fennel is cooking.

4. Cut peppers into strips; tear burrata into bite-sized pieces.

5. When ready to serve, cut each fennel in half lengthwise, then cut each half in half again. Arrange on a platter, scatter burrata
over, then top with pepper strips and anchovy fillets. Remove garlic from oil and discard cloves; drizzle platter with oil and top with basil. Season with a pinch of salt and serve while fennel is still warm.

TIP: To make roasted peppers, simply char bell peppers on a hot grill for about 3 minutes a side, until blackened; remove to a heatproof bowl, cover and let cool. Peel off skin and discard. Trim off stem if necessary, remove and discard seeds. Slice into strips.
SHARE