Roasted Veal with Balsamic Vinegar
Holiday 2006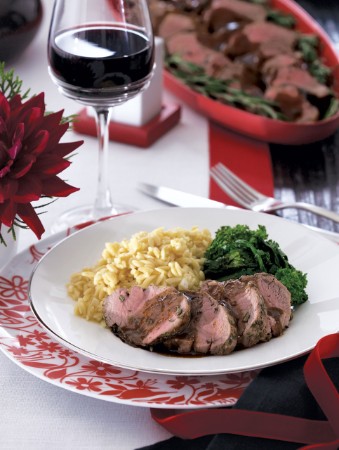 Roasted Veal with Balsamic Vinegar
Holiday 2006
BY: Lucy Waverman
Minus 8 is an Ontario-produced balsamic-like vinegar made from icewine grapes. Its flavour enhances the taste of the veal. Serve with orzo and rapini. Minus 8 is available at up market grocery stores and on line at www.minus8vinegar.com. Veal tenderloin sometimes comes in 1 lb (500 g) pieces and sometimes it comes as a whole piece usually about 3 lbs (1.5 k). I prefer the pieces so some people can have end pieces if they like veal better done. Slow roasting the veal gives it lots of flavour and juiciness. If Minus 8 is not available you can substitute balsamic vinegar.
3lbs (1.5 g) veal tenderloin
Salt and freshly ground pepper
1 tbsp (15 mL) chopped fresh rosemary or 2 tsp (10 mL) dried
2 tbsp (25 mL) olive oil
1 tbsp (15 mL) butter
1 cup (250 mL) chopped onion
3 garlic cloves, sliced
2 tbsp (25 mL) red wine
¼ cup (50 mL) Minus 8 vinegar
1½ cups (375 mL) chicken stock
2 tbsp (25 mL) butter
1 tbsp (15 mL) finely chopped Italian parsley
1. Preheat oven to 325ºF (160ºC).

2. Sprinkle veal with salt, pepper and 2 tsp rosemary, reserving remainder.

3. Heat oil and butter over high heat in a large skillet. Brown veal on all sides, about 3 minutes in total. Remove from pan and place in a shallow roasting pan.

4. Pour off all but 2 tbsp (25 mL) fat. Add onion, garlic and remaining rosemary to skillet. Sauté for 1 minute then scatter into roasting pan. Sprinkle dish with 2 tbsp (25 mL) vinegar. Reserve skillet to make sauce.

5. Bake for 25 minutes or until veal is pink. Remove veal from roasting pan and add onion, garlic and any pan juices back into skillet. Place on medium-high heat and add wine. Reduce until wine evaporates then add stock scraping up all the bits on the base of the skillet. Boil until reduced by half then add remaining vinegar and bring back to boil. Strain sauce pressing on the solids and return to skillet. Reduce heat to low and whisk in butter. Taste for seasoning and add parsley.

6. Thinly slice veal and moisten with the pan sauce.
SHARE