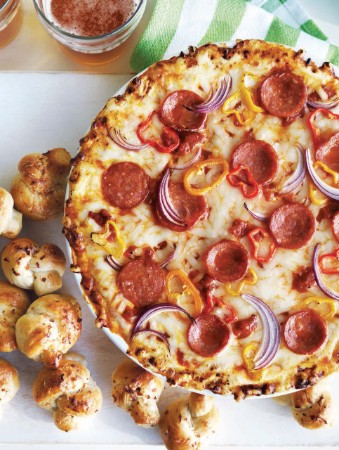 BY: Amy Rosen
The best part of pizza is all the cheese, sauce and toppings, so why not go all in and make this creamy, zesty dip that looks just like a pizza with your favourite toppings? You won't even miss the crust, because you'll be making garlicky pizza dough knots for ripping and dipping.
1 cup (250 mL) milk
6 oz (175 g) cream cheese at room temperature
½ cup (125 mL) grated Parmesan cheese
1½ cups (375 mL) grated mozzarella, divided
½ tsp (2 mL) oregano
1 cup (250 mL) favourite jarred, canned or homemade tomato sauce

A variety of your favourite pizza toppings, such as mini pepper rings, pepperoni, red onion…
1. Preheat oven to 450°F (230°C).

2. In a medium saucepan over low heat, whisk together milk, cream cheese, Parmesan, ½ cup (125 mL) of grated mozzarella and oregano until melted and smooth. Pour evenly into a 9-inch (23-cm) ovenproof pie plate. Gently pour tomato sauce over cheese dip layer and sprinkle evenly with remaining cup of mozzarella cheese. Scatter desired toppings over cheese.

3. Place on a baking sheet in preheated oven until bubbly and browned, about 10 minutes. If not quite browned enough, then broil for 1 to 2 minutes.

4. Serve with Warm Garlic Bread Knots.

WARM GARLIC BREAD KNOTS

Here's the "crust" for your pizza dip. These are also an elegant change-up from everyday garlic bread when making a pasta dinner for a crowd.

Flour for work surface

1 ball (1 lb) pizza/bread dough (available at most supermarket bakery counters—if frozen, thaw to room temperature.)
2 tbsp (30 mL) extra virgin olive oil
1 tsp (5 mL) sea salt
½ tsp (2 mL) garlic powder
½ tsp (2 mL) chili flakes
1 tbsp (15 mL) grated Parmesan
1. Preheat oven to 400°F (200°C).

2. Lightly flour work surface and roll the dough into a large rectangle, about ¼ inch (5 mm) thick. Slice dough into 16 equal strips.

3. Line a baking sheet with parchment paper. Tie each dough strip into a simple knot, placing each on baking sheet as you go, spacing them a couple of inches apart. Brush with olive oil.

4. Combine salt, garlic powder, chili flakes and Parmesan. Sprinkle over knots.

5. Bake for 15 to 17 minutes, or until lightly browned (watch carefully so they do not burn). Serve warm with Pizza Dip.
SHARE