Perfect Winter Steak with Herbed Butter Sauce
Winter 2020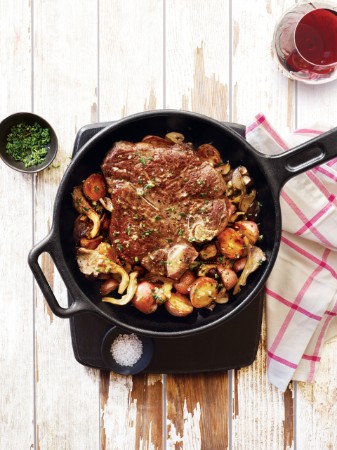 Perfect Winter Steak with Herbed Butter Sauce
Winter 2020
BY: Lucy Waverman
A cast iron pan sears meat beautifully, making it the perfect winter alternative to the barbecue. The potatoes and the mushrooms do not have enough room in the pan to cook with the meat, so first sauté them, bake separately and then mix in with the meat juices just before making the sauce. An arugula salad simply dressed is the best accompaniment.
GARLIC TARRAGON BUTTER
¼ cup (60 mL) unsalted butter, softened
1 tbsp (15 mL) chopped fresh tarragon
1 tsp (5 mL) chopped garlic
½ tsp (2 mL) grated lemon zest
Salt and freshly ground pepper

STEAK
1 porterhouse steak about 2 inches (5 cm) thick,
2 lbs (905 g), fat trimmed
1 tsp (5 mL) kosher salt
Freshly ground black pepper
3 tbsp (45 mL) vegetable oil, divided
1 lb (455 g) small red potatoes, cut in half
8 shiitake mushrooms (4 oz/115 g), stems removed, torn in half
6 oyster mushrooms quartered, about 3 oz (85 g)
4 cremini mushrooms, stems removed, torn in quarters
3 tbsp (45 mL) chopped chives
1 tsp (5 mL) finishing salt such as Maldon or fleur de sel
1 Combine butter, tarragon, garlic and lemon zest in a small bowl until smooth. Season with salt and pepper, reserve.

2 Rub steak with salt 2 hours before needed and keep at room temperature. Add pepper just before cooking.

3 Preheat oven to 450°F (230°C).

4 Heat cast iron pan on medium-high heat. Add 2 tbsp (30 mL) oil then add potatoes and season with salt and pepper. Cook until golden on both sides and crisp-tender, tossing occasionally, 5 to 6 minutes. Remove to an ovenproof baking dish. Add mushrooms to pan and cook until golden and tender, about 5 minutes. Season with salt and pepper, remove from pan and reserve. Add remaining 1 tbsp (15 mL) oil to pan. Raise heat to high and add steak. Sear until golden brown on one side, about 3 minutes. Turn over and sear the second side for another 2 minutes.

5 Place steak and potatoes in oven and bake until potatoes are tender, and steak is medium-rare, about 125°F (52°C) on an oven thermometer, about 10 to 12 minutes, depending on the thickness of the steak.

6 Remove steak and potatoes from oven. Add tarragon butter mixture to the pan on low heat, basting the steak lightly. As soon as butter melts, remove pan from heat, place steak on a carving board and let rest for 5 minutes, leaving butter in skillet. Toss potatoes and mushrooms with juices in pan until mushrooms are hot. With a slotted spoon, remove vegetables to a platter and keep warm. Sprinkle with chives before serving.

7 Return skillet to medium heat. Pour any juices from carving board into skillet with butter and reheat over medium-low, stirring, about 1 minute. Stand steak up on its top bone, and with a sharp knife remove both the fillet portion and the sirloin portion. Slice down in ¼-inch (5-mm) slices. Place on platter, baste with some of the butter sauce, sprinkle with finishing salt and serve with the potatoes and mushrooms.

8 Serve any extra sauce on the side.
COOKING WITH CAST IRON
Renowned for producing flavours and textures no other pans provide, cast iron merits this quick guide to mastering its secrets.

SEASONING
Cast iron pans must be seasoned. Most pans today come pre-treated, but do it again. Wash the pan with a little water and dry well. Soak a paper towel with vegetable oil and rub all over the pan. Keep swabbing until the pan has a sheen. Heat the oven to 350°F (180°C). Place the pan upside down on the middle oven rack (put some foil on the rack below to catch any drips) and bake for 1 hour. Turn off the heat and let the pan cool down inside the oven. It is now ready for cooking.

SIZE
If you buy only one pan then buy a 10-inch (25-cm) pan. A 12-inch (30-cm) pan is a good size for big steaks and vegetables.

SAFETY
Remember to cover the handle when you take it out of the oven to avoid burning your hand.

WASHING
Wash with warm soapy water and dry immediately. Coat with a little oil the first few times you use it.
SHARE