Pasta & Lentil Salad with Grapes, Roasted Cauliflower & Curried Yogurt Dressing
Early Summer 2020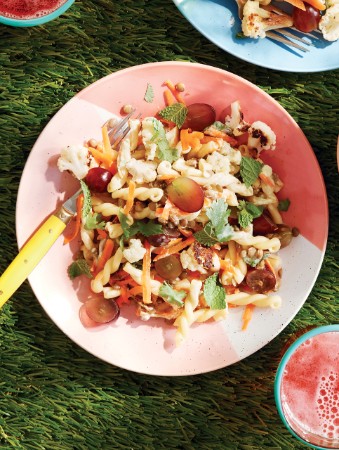 Pasta & Lentil Salad with Grapes, Roasted Cauliflower & Curried Yogurt Dressing
Early Summer 2020
BY: Tonia Wilson-Vuksanovic
This is a great salad to make ahead of time as it gives the flavours a chance to meld together. It is terrific as a tasty side dish or a substantial lunch on its own.
1 tbsp (15 mL) olive oil
1 small head cauliflower, cored and cut into 1-inch (2.5-cm) slices
3 cups (750 mL) cooked gemelli pasta (as in photo) or penne, rotini, etc.
1 can (540 mL) lentils, drained and rinsed
1 ½ cups (375 mL) seedless red grapes, halved lengthwise
1 cup (250 mL) grated carrot
1 tbsp (15 mL) fresh mint, coarsely chopped
2 tbsp (30 mL) fresh cilantro, coarsely chopped
DRESSING
1 cup (250 mL) plain, full-fat yogurt, at least 3%
Zest and juice of 1 lime, zested with a rasp
1 ½ tsp (7 mL) curry powder
¼ tsp (1 mL) ground ginger 2 tsp (10 mL) sugar
1 ½ tsp (7 mL) salt
¼ tsp (1 mL) freshly ground black pepper
3 tbsp (45 mL) olive oil
1 Preheat oven to 400°F (200°C).

2 Drizzle large baking sheet with oil, place cauliflower slices and any broken bits on the shee Roast for 25 minutes, then flip pieces and continue roasting until deep golden, about another 20 minutes. Let cool.

3 In a large bowl combine dressing ingredients; yogurt, lime zest, lime juice, curry, ginger, sugar, salt and pepper.

4 Add 3 tbsp (45 mL) olive oil, pasta, lentils, grapes, carrot, mint and cilantro to

5 Coarsely chop 2 cups (500 mL) of the roasted cauliflower into small Add to bowl.

6 Toss all ingredients until well combined and adjust seasoning if necessary.
SHARE