Lemon Squares
Printemps 2006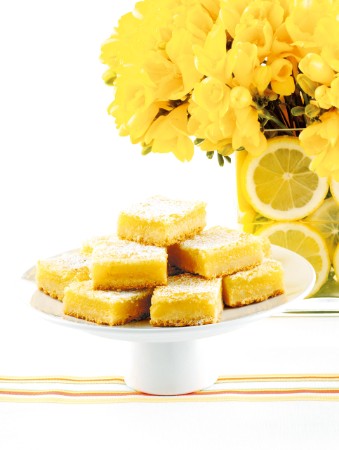 Lemon Squares
Printemps 2006
BY: Anna Olson
Tart and refreshing, these are a Canadian staple. Be sure to let your base cool completely before pouring filling over so that it does not absorb into the crust. If you're in a rush, try brushing the baked crust with an egg white immediately after it comes out of the oven-it will create a barrier to keep your crust from getting soft.
Crust
1 cup (250 mL) all-purpose flour
¼ tsp (1 mL) fine salt
¼ cup (50 mL) cornmeal
¼ cup (50 mL) icing sugar, sifted
½ cup (125 mL) unsalted butter

Filling
4 large eggs
2 large egg yolks
1 1/3 cups (325 mL) sugar
¼ cup (50 mL) whipping cream or buttermilk
½ cup (125 mL) fresh lemon juice
2 tsp (10 mL) lemon zest
1 tsp (5 mL) baking powder
Icing sugar, for dusting
1. For crust, preheat oven to 350ºF (180ºC). Butter and line the bottom of an 8-inch (20-cm) square baking pan with parchment paper. Combine flour, salt, cornmeal and icing sugar. Cut in butter until the texture of coarse meal (dough will be crumbly). Press dough into pan and bake for 15 to 18 minutes, until it just begins to colour around the edges. Allow to cool completely.

2. For filling, whisk together all ingredients for filling until smooth and pour over crust. Bake for 25 to 30 minutes, until set and a crust is visible on top of the squares. Allow to cool at room temperature for 20 minutes, then chill for at least 2 hours.

3. Cut squares and serve dusted with icing sugar.
SHARE