Green Goddess Bowl
Holiday 2016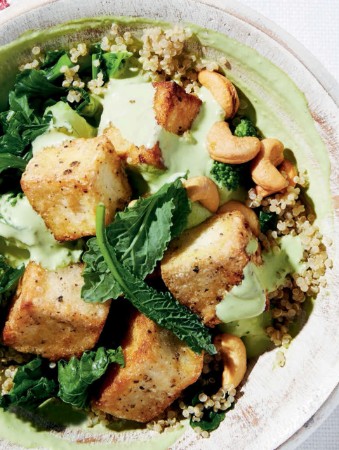 Green Goddess Bowl
Holiday 2016
BY: Amy Rosen
This bowl, packed with vegetarian nutrition, will fill you up and make you feel great about your life choices. That said, it's not fat-free because we like a little envy to go along with our greens, and a decadent green goddess dressing and cashews fill the bill. If you want to slim it down, swap out the mayo for fat-free, and the sour cream for low-fat.
GREEN GODDESS DRESSING
1 cup (250 mL) mayonnaise
1 cup (250 mL) sour cream
1 bunch tarragon, leaves removed from stems
1 bunch chives, roughly chopped
1 garlic clove, chopped
1 tsp (5 mL) anchovy paste
Juice of 1 lemon
Salt and pepper to taste

2 cups (500 mL) water
1 cup (250 mL) quinoa
1 pkg (350 g) firm tofu
Salt and pepper to taste
2 tbsp (30 mL) cornstarch
1 tbsp (15 mL) vegetable oil
1 small bunch broccoli, trimmed and sliced into florets, about 2 cups (500 mL)
1 bunch rapini, trimmed of stems, sliced into thirds, about 3 cups (750 mL)
1 cup (250 mL) frozen peas, defrosted
2 cups (500 mL) baby kale
½ cup (125 mL) salted roasted cashews (optional)
1 Make dressing by placing all ingredients in a blender and blending until smooth, with salt and pepper to taste. Makes 2 cups (500 mL) and you won't need it all, but leftovers store well in the refrigerator for several days and it'll be great on your leftover baby kale.


2 Bring 2 cups (500 mL) of salted water to a boil in a medium saucepan. Add 1 cup (250 mL) quinoa, stir, cover and reduce to a simmer until quinoa is tender, 12 to 15 minutes. Remove from heat and let stand for 15 minutes, then fluff with a fork. Set aside.


3 Remove tofu from package and pat dry. Cut into 1-inch (2.5-cm) cubes and season liberally with salt and black pepper, then toss to coat in cornstarch. Heat oil in a large nonstick skillet over medium heat. Add tofu cubes and fry until lightly golden and crispy, turning now and then, for 6 to 8 minutes.


4 Using the rinsed-out quinoa pot, add 2 inches (5 cm) of water and bring to a simmer. Add prepared broccoli and rapini and steam for 4 minutes. Add peas and steam for 1 minute more. Drain and rinse with cold water in a colander. Pat off excess water.


5 To assemble, divide quinoa equally among 4 bowls, top with a mélange of the steamed green vegetables, then cubes of crispy salt-and-pepper tofu, drizzle with a healthy dose of the green goddess dressing, and garnish with fresh baby kale and cashews (if desired).
SHARE