Green Caesar
Early Summer 2018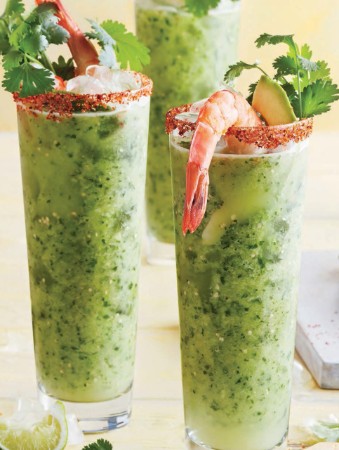 Green Caesar
Early Summer 2018
BY: Christopher St. Onge
This delicious cocktail tastes like the best kind of snack—salty, lip-smacking and briny. In other words, as satisfying as a Bloody Caesar, but reinvented for the 21st century! Tajin is a Mexican seasoning powder consisting of chilies, lime and salt. If your grocery store doesn't stock it, substitute celery salt or even steak spice.
1. Rim 2 tall glasses with lime juice and Tajin seasoning.

2. In a blender, combine 3 medium-size tomatillos, ½ tsp (2 mL) salt, 2½ oz vodka, 1 oz each lime juice and clam juice, 1 mini cucumber peeled and chopped, one-quarter of a small avocado and ¼ cup (60 mL) loosely packed cilantro leaves; purée. Fill prepared glasses with ice and divide tomatillo mixture between them. Add a dash of Worcestershire and Tabasco to each, stir and garnish with lime wedges, cilantro, avocado slices and cooked and chilled jumbo shrimp.
SHARE