Wine Can Cornish Hens with Sumac & Pomegranate Molasses
Early Summer 2021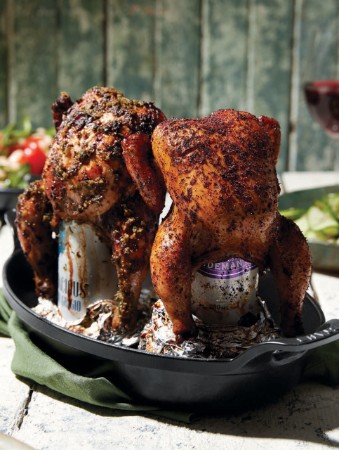 Wine Can Cornish Hens with Sumac & Pomegranate Molasses
Early Summer 2021
BY: Tonia Wilson-Vuksanovic
These sweet-and-sour-flavoured hens get their tang from the pomegranate molasses (it may also be called pomegranate glaze or reduction and is similar to balsamic glaze but more tart). To find pomegranate molasses at a store near you, visit red-crown.ca.
3 tbsp (45 mL) pomegranate molasses
1 tbsp (15 mL) olive oil
1 tbsp (15 mL) sumac
1/2 tsp (2 mL) salt
2 cans (each 250 mL) red wine
2 Cornish hens, 1 1/2 lbs (680 g) each (remember to remove neck from cavity)

1. In a medium bowl, stir together molasses, olive oil, sumac, salt and 1 tbsp (15 mL) red wine from each can. Add hens and coat well with marinade. Cover and refrigerate for at least 2 hours.

2. Empty out each can of wine to half full, reserving extra for sipping or another recipe.

3. Preheat grill to high heat with lid closed.

4. Meanwhile, carefully scrunch 1 large piece of foil around the bottom half of each can (without covering the base of the can). This will act as a support for cans and hens.

5. Carefully work 1 can into the cavity of each hen as far as it will go. Place both in a solid-bottomed ovenproof pan, such as a cast-iron pan or heavy skillet. Reserve marinade.

6. Carefully place the pan on one side of the grill and close the lid. Turn down the heat on the side with hens to low and cook with the indirect high heat of the other side of the grill for 15 minutes. If the grill has a temperature gauge it should read around 400°F (204°C).

7. Lift the lid and rotate the pan to cook hens evenly. Baste with remaining marinade.

8. Close lid and cook until hens are browned and have some slight charring, and internal temperature reaches 165°F (74°C), about 10 minutes more. Be sure to keep a close eye on progress, as the sweetness in the molasses can cause burning.

9. Let rest for 5 minutes before carefully sliding hens off cans. Serve whole with Simple Cucumber Salad (recipe follows).
SIMPLE CUCUMBER SALAD

This is the quickest salad you're likely to make! It is the perfect side dish with Middle Eastern foods, and any leftovers are great on a sandwich.

1 medium English cucumber, thinly sliced
2 tbsp (30 mL) minced red onion
1 tbsp (15 mL) white wine vinegar
1/2 tsp (2 mL) sugar
1/4 tsp (1 mL) salt
1. In a medium bowl, stir together cucumber, onion, vinegar, sugar and salt, separating cucumber slices to combine ingredients well. Refrigerate until ready to use (up to 1 day ahead).
SHARE