Wine Can Cornish Hens with Parsley, Honey & Pecans
Early Summer 2021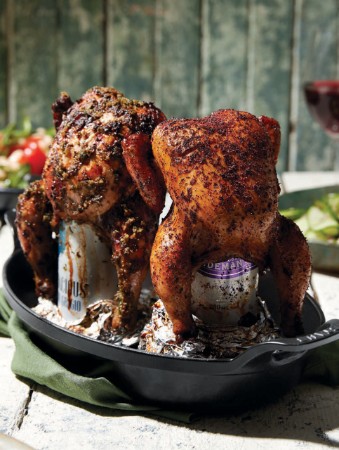 Wine Can Cornish Hens with Parsley, Honey & Pecans
Early Summer 2021
BY: Tonia Wilson-Vuksanovic
Here we are riffing on the ever-popular beer can chicken and elevating it with Cornish hens and some white wine. The wine steams the birds from the inside, keeping them moist and flavourful.
3/4 cup (175 mL) coarsely chopped fresh flat-leaf parsley
1/4 cup (60 mL) pecans (pieces or whole)
2 tbsp (30 mL) honey
2 tbsp (30 mL) olive oil
2 cans (each 250 mL) white wine
2 shallots, peeled and coarsely chopped
1/2 tsp (2 mL) salt
Black pepper to taste
2 Cornish hens, 1 1/2 lbs (680 g) each (remember to remove the neck from the cavity)
1. In a small food processor or blender, add parsley, pecans, honey, olive oil, 1 tbsp (15 mL) white wine from each can, shallots, salt and pepper. Process until smooth. Empty out each can of wine to half full, reserving extra for sipping or another recipe.

2. Place marinade in a medium bowl, add hens and coat well. Cover and refrigerate for at least 2 hours.

3. Preheat grill to high heat with lid closed.

4. Meanwhile, carefully scrunch 1 large piece of foil around the bottom half of each can (without covering the base of the can). This will act as a support for cans and hens.

5. Carefully work 1 can into the cavity of each hen as far as it will go. Place both in a solid-bottomed ovenproof pan, such as a cast-iron pan or heavy skillet. Reserve marinade.

6. Carefully place the pan on one side of the grill and close the lid. Turn down the heat on the side with hens to low and cook with the indirect high heat of the other side of the grill for 15 minutes. If the grill has a temperature gauge it should read around 400°F (204°C).

7. Lift the lid and rotate the pan to cook hens evenly. Baste with remaining marinade.

8. Close lid and cook until hens are golden and have an internal temperature of 165°F (74°C), about 10 minutes more.

9. Let rest for 5 minutes before carefully sliding hens off cans. Serve whole with White Bean Salad (recipe follows).
WHITE BEAN SALAD

This easy salad is lovely with the Cornish hens and on its own makes for a terrific lunch. Add some tuna or grilled chicken to make it even more substantial.

2 tbsp (30 mL) olive oil
1 tbsp (15 mL) white wine vinegar
Salt to taste
1 can (540 mL) white beans, rinsed and drained
1 cup (250 mL) cherry tomatoes, halved lengthwise
1 cup (250 mL) arugula
1. In a medium bowl, stir together olive oil, vinegar and salt. Add beans, tomatoes and arugula, and lightly toss. This salad can be made and refrigerated up to 3 days ahead, but add arugula just before serving.
SHARE