Surf 'n' Turf Charcuterie Board
Summer 2015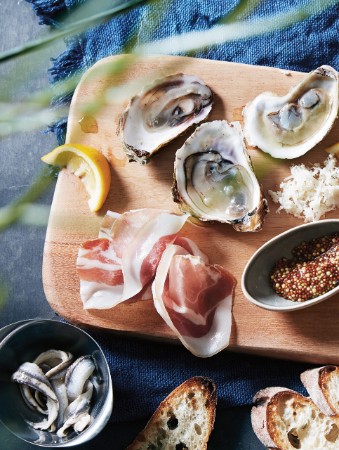 Surf 'n' Turf Charcuterie Board
Summer 2015
BY: Victoria Walsh
Creating this elegant feast is easy. It's meant to be enjoyed in a leisurely way, so don't stress about timing; simply prepare and serve ingredients as they're ready. Start by arranging the prepared ingredients, then grill the steak and shrimp. Shuck oysters while the steak rests.
MARINATED GRILLED STEAK
2 lbs (1 kg) hanger steak
4 garlic cloves, minced
2 tbsp (30 mL) vegetable oil
2 tbsp (30 mL) soy sauce
1 tbsp (15 mL) freshly squeezed lime juice
2 tsp (10 mL) sesame oil
½ tsp (2 mL) kosher coarse salt

CHARCUTERIE BOARD
1 lb (500 g) cured meats such as sliced bresaola, prosciutto, saucisson, lomo or cacciatore salami
8 to 12 white anchovies
½ cup (125 mL) salmon rillettes or salmon paté or mousse
2 to 3 tbsp (30 to 45 mL) mustard, preferably grainy
2 to 3 tbsp (30 to 45 mL) freshly grated horseradish
2 baguettes or flatbread, toasted

GRILLED SHRIMP
1 lb (500 g) shell-on large shrimp, fresh or defrosted
1 to 2 tbsp (15 to 30 mL) extra virgin olive oil
Generous pinches of kosher salt

2 lemon wedges
Generous pinches of smoked paprika
12 to 24 fresh oysters
1 Pat steaks dry with paper towels. Place in are sealable plastic bag or container. Stir marinade ingredients, except salt, together in a small bowl. Pour marinade overtop. Massage into meat. Marinate in the fridge for at least 6 hours or overnight. Remove from fridge, about an hour before grilling. Remove steaks from marinade and discard marinade. Sprinkle with salt. Bring to room temperature.

2 Arrange cured meats over a serving board. Pat anchovies dry with paper towels. Serve anchovies and rillettes in separate small bowls or dishes alongside cured meats. Add dollops of mustard and horseradish to board or small plates. Allow guests to tear and snack on bread with various ingredients.

3 Preheat barbecue to medium-high.

4 Remove steak from marinade and discard marinade. Grill steaks for 4 to 5 minutes per side until charred and cooked to medium-rare. Remove from grill to a carving board. Loosely cover with foil. Let rest for 5 to 10 minutes, then thinly slice.

5 Meanwhile, place shrimp in a grilling tray. Drizzle with 1 tbsp (15 mL) olive oil. Sprinkle with salt. Shake to evenly distribute and coat with oil, adding more oil if necessary. Barbecue, stirring and turning shrimp as needed, for 4 to 6 minutes until shrimp is cooked through. Remove from barbecue. Tumble onto serving platter. Squeeze lemon juice overtop. Sprinkle with smoked paprika. Serve immediately, alongside a dish for discarding shells.

6 Shuck and prepare oysters. Protect your hand with a thick kitchen towel or, better yet, use a protective oyster-shucking glove. Secure oysters cup-side down on a kitchen towel. Using the palm of your hand, press the cloth into the top of the oyster. Slide the knife into the crook of the shell—the tiny opening at the point of the oyster. Carefully shimmy the flat side of the knife between the top and bottom halves of the shell. Twist, prying open the shells, then run the blade along the roof of the shell to release the oyster. As best you can, avoid pushing any shards into the oyster liquor. Run the blade across the bottom half, slicing through the oyster adductor and releasing the oyster. Serve oysters in their half shell set on a tray filled with crushed ice, the oysters carefully propped up so the liquor doesn't spill out.
SHARE