Strawberry & Chamomile Parfait
Early Summer 2021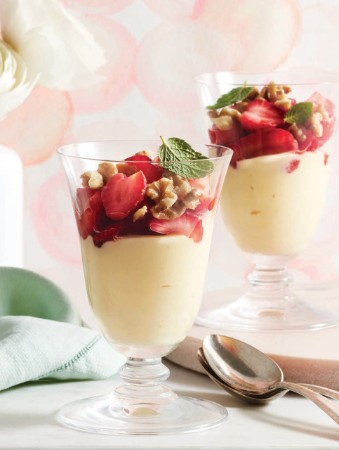 Strawberry & Chamomile Parfait
Early Summer 2021
BY: Marcella DiLonardo
This dreamy dessert infuses the floral flavours of chamomile tea into a light and airy custard filling. It pairs beautifully with the orange-marinated strawberries and is a great make-ahead treat for your next small gathering. Garnish with mint, if you have it on hand, or for endless summer vibes, use fresh or dried edible flowers.
MARINATED STRAWBERRIES
2 pints Ontario strawberries, hulled and quartered
2 tbsp (30 mL) icing sugar
2 tbsp (30 mL) orange liqueur
Zest of 1 orange
2 tbsp (30 mL) fresh orange juice

CUSTARD
1 cup (250 mL) whole milk
2 cups (500 mL) whipping cream, divided
3 chamomile tea bags
3 large egg yolks
1/2 cup (125 mL) sugar
2 tbsp (30 mL) cornstarch
1/4 tsp (1 mL) fine salt
1 tbsp (15 mL) pure vanilla extract
Chopped walnuts, for garnish
1. For the marinated strawberries, in a large mixing bowl, toss together strawberries, sugar, liqueur and orange zest and juice until combined. Refrigerate until ready to use (up to 24 hours in advance).

2. For the custard, in a saucepan over medium-low heat, add milk, 1 cup (250 mL) whipping cream and tea bags. Bring mixture to a gentle simmer (do not boil) and remove from heat. Let stand for 10 minutes to allow the tea to steep into milk. Discard tea bags.

3. In a small mixing bowl, whisk together egg yolks, sugar, cornstarch and salt. Slowly pour in the cream mixture while vigorously whisking. Once incorporated, pour the mixture back into the saucepan.

4. Cook over medium heat, continuously whisking, until mixture begins to thicken, 3 to 4 minutes. Remove from heat and stir in vanilla. Pour custard through a fine-mesh strainer and transfer to a bowl. Cover with plastic wrap (directly touching the custard to avoid skin forming) and refrigerate until chilled, about 2 hours.

5. Beat the remaining 1 cup (250 mL) whipping cream to stiff peaks. Once the custard has fully chilled, gently fold whipping cream into custard.

6. Evenly divide mixture among 4 serving glasses. Top with marinated strawberries, walnuts and garnish, if desired.
SHARE