Smash Burgers with Cheese, Pickles and Special Sauce
Winter 2018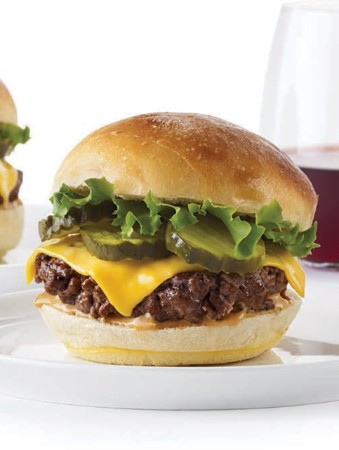 Smash Burgers with Cheese, Pickles and Special Sauce
Winter 2018
BY: Eric Vellend
Griddled all-beef patties topped with gooey cheese and a truly special sauce, these smash burgers are a game changer. Chuck is an ideal cut for burgers, as its meat-to-fat ratio will ensure juicy results. A cast-iron pan or griddle is essential here for the best possible crust—the high heat can also damage a nonstick pan. If you only have a thin metal spatula, you can double up with another spatula or cheese slicer to properly press the beef.
SPECIAL SAUCE
1 tbsp (15 mL) finely chopped shallot
2 tsp (10 mL) cider vinegar
6 tbsp (90 mL) mayonnaise (reduced fat is fine)
2 tbsp (30 mL) ketchup
2 tsp (10 mL) sriracha sauce
1 tsp (5 mL) yellow mustard
½ tsp (2 mL) Worcestershire sauce
Pinch ground cumin

BURGERS
1 lb (500 g) good quality ground beef chuck
2 tsp (10 mL) vegetable oil
Salt and freshly ground pepper to taste
4 thin slices processed cheese
4 soft, medium-size burger buns
16 slices bread-and-butter pickles, drained
4 pieces leaf lettuce (slightly bigger than bun)
1. For the special sauce, combine shallot and vinegar in a small mixing bowl. Let stand 15 minutes. Stir in rest of ingredients. (Sauce will keep, covered and refrigerated, for 5 days.)

2. Divide beef into 4 even portions. With minimal handling, form each portion into a ball.

3. Heat a seasoned cast-iron griddle or large skillet over a medium heat for 5 minutes. Turn fan over stovetop on high and raise heat under pan to high. Add vegetable oil and spread with balled-up paper towel clutched in tongs. Add beef balls and firmly press each ball down with sturdy metal spatula to a 4-inch (10-cm) diameter. Season tops with salt and pepper. Cook, undisturbed, until brown crust forms, about 2 minutes. Flip, making sure to get under the crust. Season tops with salt and top each patty with cheese slice. Cook until burger reaches desired doneness, about 1 minute for medium or 2 minutes for well done.

4. Smear bun bottoms generously with special sauce. Top each with patty, 4 pickle slices and lettuce. Add bun tops and serve immediately.
SHARE