Slow-Roasted Salmon with Caramelized Lemon Relish
Summer 2021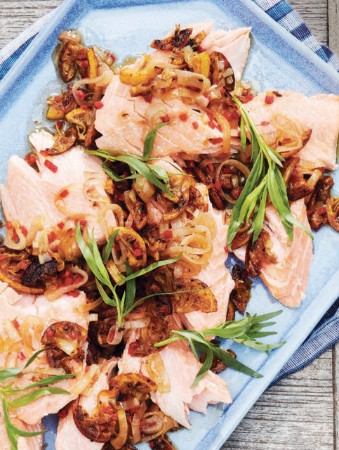 Slow-Roasted Salmon with Caramelized Lemon Relish
Summer 2021
BY: Eric Vellend
Cooking salmon in a low oven ensures moist, succulent flesh every time. It's a technique that's particularly well-suited to serving it (or trout or Arctic char) cold or at room temperature. Here, it's paired with a rustic relish of pan-fried lemon slices and sweet-and-sour shallots.
2 small lemons, preferably organic, about 10 oz (285 g) total
2 tbsp (30 mL) vegetable oil, divided
2 large shallots, about 4 oz (115 g) total, peeled, thinly sliced into rings
1 tbsp (15 mL) red wine vinegar
1 1/2 tsp (7 mL) sugar, divided
1 red hot chilli pepper, seeded, finely chopped
2 tbsp (30 mL) extra virgin olive oil, plus more for brushing
Salt and freshly ground pepper to taste
2 1/4lbs (1 kg) whole salmon fillet
Small tarragon sprigs for garnish
1. Slice lemons into 1/4-inch (5 mm) rounds. Using a skewer or tip of a paring knife, poke out seeds. Set aside.
2. In a large nonstick frying pan, heat 1 1/2 tsp (7 mL) vegetable oil over medium-high heat. Cook half of the lemon slices until nicely caramelized, about 2 minutes per side. Transfer to a baking sheet to cool. Wipe pan clean, return to heat and repeat process with another 1 1/2 tsp (7 mL) vegetable oil and remaining lemon slices. Wipe pan clean, reduce heat to medium and add remaining 1 tbsp (15 mL) vegetable oil. Add shallots. Cook, stirring often, for 3 minutes. Remove from heat. Stir in vinegar and 1/2 tsp (2 mL) sugar. Transfer to sheet with lemons. Cool completely.
3. Cut lemon slices into quarters and place in a medium mixing bowl with shallots. Stir in remaining 1 tsp (5 mL) sugar, chilli, olive oil, salt and pepper. Transfer to an airtight container. Refrigerate for up to 5 days. Serve at room temperature.
4. Preheat oven to 275°F (135°C).
5. While the oven is preheating, place salmon on a parchment-lined baking sheet, flesh side up. Pat top dry with a paper towel. Season with salt. When the salt has dissolved, brush lightly with olive oil. Bake fish until slightly underdone— a thinner fillet of wild salmon might take only 15 minutes, while a thick centre-cut piece from a large fish could take up to 30 minutes. (To check for doneness, insert the tip of a paring knife into the thickest part and hold for 3 seconds. If it's warm, it's ready. If it's still cool or barely warm, return to the oven.) Remove from oven and cool completely. Transfer to a serving platter. Cover and refrigerate for up to 1 day. When ready to serve, bring salmon to room temperature. Break into rustic portions and arrange on a serving platter. Spoon relish around fish. Garnish with tarragon.
SHARE