Seedy Breakfast Cookies
Spring 2021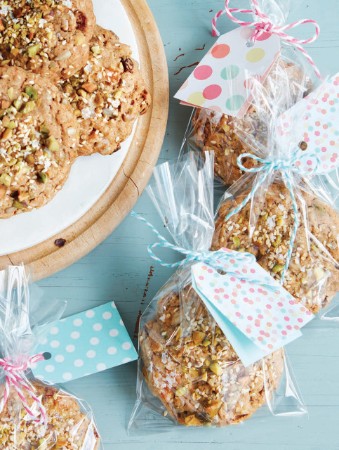 Seedy Breakfast Cookies
Spring 2021
BY: Michelle Lucas Larving
With the benefits of whole grains, nuts and seeds, these cookies are filled with nutrients but still feel like a treat. The pistachios can be substituted for equal amounts of toasted pumpkin seeds, and the sesame seeds can be omitted to make this cookie allergen-friendly. Spelt flour is available at most grocery and bulk food stores.
1 1/2 cups (375 mL) large-flake oats
1 cup (250 mL) spelt flour
3/4 cup (175 mL) all-purpose flour
1/2 tsp (2 mL) baking powder
1/4 tsp (1 mL) baking soda
2 tsp (10 mL) flaked sea salt, divided
3/4 cup (175 mL) unsalted butter, at room temperature
3/4 cup (175 mL) dark brown sugar
1/2 cup (125 mL) golden cane or granulated sugar
1 tbsp (15 mL) honey
1 egg
1 tsp (5 mL) vanilla extract
1 cup (250 mL) pistachios, chopped and lightly toasted, divided
3/4 cup (175 mL) sunflower seeds, lightly toasted
3/4 cup (175 mL) golden raisins
3/4 cup (175 mL) chopped dried apricots
1/4 cup (60 mL) plus 1 tbsp (15 mL) sesame seeds, lightly toasted, divided
1. Arrange oven racks in top and bottom thirds of oven. Preheat to 350°F (177°C). Line 2 baking sheets with parchment paper.

2. In a medium bowl, whisk together oats, spelt and all-purpose flours, baking powder and baking soda. Using your fingertips, crush 1 tsp (5 mL) of the salt, then add to the bowl.

3. Using a stand mixer fitted with the paddle, beat butter with dark brown and golden cane sugars and honey on medium-high speed until light, 2 to 3 minutes. Scrape down the sides of the bowl. Beat in egg and vanilla extract. Stir in flour mixture until a smooth dough forms. Stir in 3/4 cup (175 mL) of the pistachios, sunflower seeds, raisins, apricots and 1/4 cup (60 mL) of the sesame seeds until fully combined.

4. Using a standard ice cream scoop (about 1/4 cup/60 mL in size), scoop dough onto prepared baking sheets. Roll each scoop in to a smooth ball to compact seeds and dried fruit, and arrange about 2 inches (5 cm) apart. Lightly flatten using the palm of your hand.

5. Finely chop remaining 1/4 cup (60 mL) pistachios. Sprinkle over cookies along with remaining 1 tsp (5 mL) salt and 1 tbsp (15 mL) sesame seeds.

6. Bake in top and bottom thirds of oven, switching sheets halfway through, until golden around the edges, about 16 minutes. Transfer sheets to a wire rack and let cool for 5 minutes. Remove cookies onto a rack and let cool completely.
SHARE