Salmorejo (Córdobian-Style Gazpacho)
Summer 2021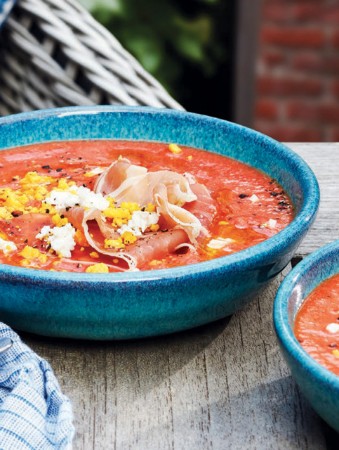 Salmorejo (Córdobian-Style Gazpacho)
Summer 2021
BY: Eric Vellend
Salmorejo is gazpacho's lesser-known cousin. Thick with bread and olive oil, the vibrant soup is still light and refreshing on a hot summer's day. Garnishes of salty-sweet ham and creamy hard-boiled eggs make it substantial enough for a main course at lunch.
2 1/4 lbs (1 kg) ripe tomatoes, cored
2 1/2 cups (625 mL) cubed day-old baguette, crusts removed
2 cloves garlic, grated on rasp
1/3 cup (80 mL) extra virgin olive oil, plus more for serving
2 tbsp (30 mL) red wine vinegar
Salt and freshly ground pepper to taste
2 hard-boiled eggs, whites and yolks separated, chopped
3 thin slices serrano ham or prosciutto, chopped
1. Halve tomatoes crosswise. Scoop out seeds into a sieve placed over a medium bowl. Stir and press seeds with the back of a spoon to extract the juice. Discard seeds or save for vegetable stock. Coarsely chop tomatoes and add to juice.
2. Place tomatoes, their juices, bread and garlic in a blender. Blend until smooth. With motor running, slowly add olive oil, then vinegar. Season with salt and pepper. Transfer to an airtight container. Refrigerate for at least 4 hours and up to 2 days.
3. When ready to serve—it's most refreshing fridge-cold—stir soup and taste for salt. Divide among small bowls. Sprinkle with egg and ham. Drizzle with a little olive oil.
SHARE