Saffron-Cumin Seed Crackers
Holiday 2014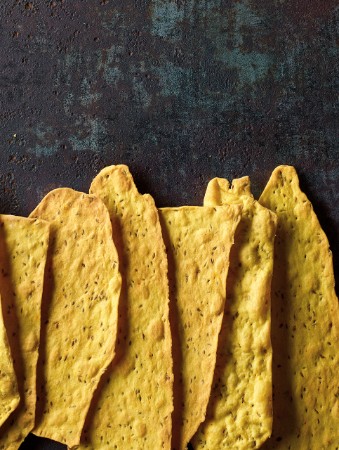 Saffron-Cumin Seed Crackers
Holiday 2014
BY: Monda Rosenberg
How many times have you started a meal with a homemade cracker? And how many times have you actually had a flavour-filled cracker? This one fills the bill on both accounts. The luxe saffron makes it an impressive beginning for an elegant dinner and a perfect companion for a glass of wine and creamy blue cheese. But be warned, these crackers are so addictive, they'll disappear quickly.
⅓ cup (80 mL) warm water
½ tsp (2 mL) saffron threads
1½ cups (375 mL) all-purpose flour
2 tsp (10 mL) cumin seeds
1 tsp (5 mL) table salt
⅓ cup (80 mL) cold butter, cubed
1 Pour warm water into a bowl and crush in saffron threads as finely as possible. (Alternatively, place saffron on a piece of waxed paper, then crush as finely as possible and sprinkle over water.) Let sit 30 minutes.

2 Combine flour, cumin seeds and salt in a food processor. Whirl 20 seconds to slightly crush seeds. Remove processor lid and scatter butter into flour mixture. Pulse until a coarse meal is formed. Stir saffron mixture and, with processor running, slowly pour through the feed tube. It will form a sticky dough. If too dry, add water 1 tbsp (15 mL) at a time; if too wet, add flour in a similar manner through the feed tube while processor is running. On a lightly floured work surface, form dough into a rough square, about 1 inch (2.5 cm) high. Wrap well and refrigerate for an hour, or overnight if you wish.

3 Preheat oven to 350°F (180°C). Cut dough into 8 equal-size pieces. Place one piece on a work counter or nonstick baking mat and, using a lightly floured rolling pin, roll as thinly as possible (this is a perfect opportunity for your pasta-rolling machine, if you have one—see TIP). Transfer to a large ungreased baking sheet. Prick cracker all over with a fork. Add a second one to the tray if there is room. Repeat with remaining dough, baking individual pans as soon as they are filled. Bake until golden and crisp, from 7 to 9 minutes, depending on thickness of crackers. Watch closely the last few minutes, as they brown quickly.

4 Use a pizza wheel to cut warm crackers if you wish. They can also be broken, once cooled. Store in an airtight container at room temperature.

TIP Pull out your manual pasta-rolling machine to quickly turn out thin, even sheets of crackers. Set the machine to its widest
rolling setting. Using a floured rolling pin, roll 1 piece (one-eighth of the dough) until it's about 8 inches (20 cm) long and 3 inches
(8 cm) wide. Feed this between the rollers of the pasta maker, and roll through. Lower machine's rolling setting to a thinner selection, and roll dough through again. Repeat until you have a paper-thin sheet of dough, (probably the second from the last setting). If dough becomes sticky, dust with flour and run through again. Continue with the instructions in Step 3 for baking, but these crackers will need only 5 to 6 minutes in the oven.
SHARE