Red Wine & Juniper-Braised Lamb Shanks
Autumn 2014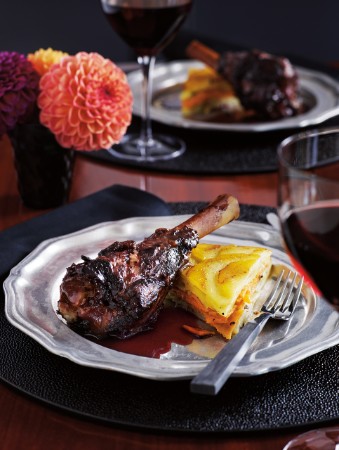 Red Wine & Juniper-Braised Lamb Shanks
Autumn 2014
BY: Christopher St. Onge
A deeply flavoured braise for a cool autumn day. Commonly used to flavour gin, dried juniper berries can be found in the spice aisle. If unavailable, simply omit and double the amount of chopped rosemary. There's no need to peel the carrot or garlic as the solids are strained from the braising liquid to make the finishing sauce.
6 lamb shanks
Salt and freshly ground black pepper
2 tbsp (30 mL) olive oil
1 onion, chopped
1 medium carrot, chopped
1 stalk celery, chopped
1 bottle (750 mL) red Côtes Du Rhône, or Grenache
2 bay leaves
1 tbsp (15 mL) juniper berries
1 tbsp (15 mL) black pepper
1 tbsp (15 mL) chopped rosemary
1 head garlic, sliced in half through equator
1 tsp (5 mL) salt
1 tbsp (15 mL) balsamic vinegar
½ cup (125 mL) ruby port
1 Preheat oven to 325°F (160°C).

2 Season lamb shanks with salt and pepper. In a large Dutch oven or heavy-bottom roasting pan, heat oil over medium-high. Brown shanks on all sides and remove to a plate.

3 Add onion to pot and cook until translucent, about 2 minutes. Add carrot and celery; pour wine over vegetables and stir in bay leaves, juniper, pepper, rosemary, garlic and salt. Nestle lamb shanks into wine mixture; cover and cook in preheated oven for 2½ to 3 hours or until lamb is fork-tender. (Shanks may be prepared to this point 3 days in advance and refrigerated in braising liquid, in pot. Warm over low heat, covered, for 30 minutes before proceeding with recipe.) Gently remove shanks with a slotted spoon to a platter; tent with foil to keep warm while preparing finishing sauce.

4 Strain braising liquid through a fine-mesh sieve into a glass measuring cup; discard solids.Skim as much fat as possible from top of liquid and return to pot; set over medium heat on stovetop. Bring to a boil and stir in balsamic vinegar and port; reduce to 1 cup (250 mL), 8 to 10 minutes. Serve alongside lamb to spoon over shanks.
SHARE