Pink Gin Fizz
Early Summer 2020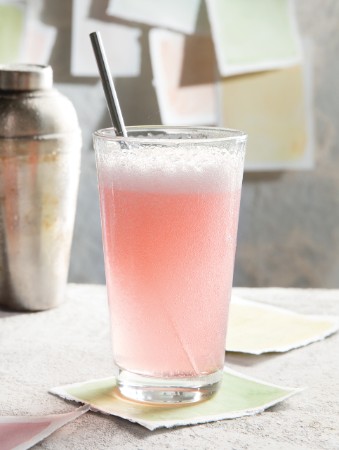 Pink Gin Fizz
Early Summer 2020
BY: Eric Vellend
Fruity, floral and mouth-wateringly tart, this pink drink takes the classic Gin Fizz and gives it a fabulous makeover. Fentimans Rose Lemonade is unique, but you could also make this cocktail with sparkling lemonade or elderflower soda.


2 oz gin
½ oz strained fresh lemon juice
½ oz Grenadine
Ice
4 oz Fentimans Rose Lemonade, chilled


1 Place gin, lemon juice and grenadine in a cocktail shaker. Fill three-quarters with ice. Shake until ice cold, about 12 seconds. Strain into a chilled tall glass. Top with soda, pouring slowly. Stir once. No garnish.



GRENADINE
An essential ingredient in a Singapore Sling and Tequila Sunrise, Grenadine can also be used to sweeten herbal iced tea and lemonade. Or mix it with sparkling water and a splash of lime juice for homemade pomegranate soda.

½ cup (125 mL) pomegranate juice
½ cup (125 mL) sugar


1 Combine pomegranate juice and sugar in a small saucepan. Place over medium heat. Whisk gently until sugar dissolves. (Do not let it come to a boil.) Remove from heat and cool completely.

2 Transfer to a glass jar with a lid. Refrigerate up to 1 month.


SHARE