Orange Stout Spice Cake
Holiday 2021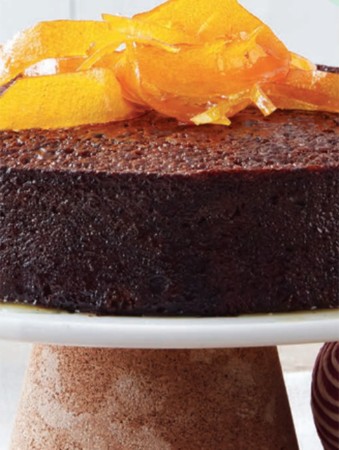 Orange Stout Spice Cake
Holiday 2021
BY: Michael Elliott
This orange-glazed spice cake is special enough for entertaining but easy enough for a family dinner. If you want to skip the orange garnish, gently warm 1/2 cup (125 mL) marmalade with a splash of water to glaze the cake.
SPICE CAKE
1 cup + 1 tbsp (250 + 15 mL) unsalted butter, melted, divided
2 cups + 1 tbsp (500 + 15 mL) all-purpose flour, divided
2 tsp (10 mL) baking powder
1 tbsp (15 mL) ground ginger
1 tsp (5 mL) ground cinnamon
1/2 tsp (2 mL) ground cardamom
1/2 tsp (2 mL) salt
3/4 cup (175 mL) packed light brown sugar
3 large eggs
1 cup (250 mL) stout
1 cup (250 mL) molasses
1 tbsp (15 mL) finely grated fresh ginger
1/4 cup (60 mL) chopped mixed candied peel
1/4 cup (60 mL) chopped crystallized ginger (see TIP)
2 cups (500 mL) full-fat Greek yogurt for serving

ORANGE PEEL GARNISH
2 large navel oranges, about 1 1/2 lbs (680 g)
Water as needed
3/4 cup (175 mL) granulated sugar
1. Preheat oven to 350°F (177°C) and place rack in middle of oven.

2. For cake, line bottom of a 9-inch (23 cm) springform pan with parchment paper, and butter and flour sides using 1 tbsp (15 mL) each butter and flour.

3. Sift remaining flour, baking powder, ginger, cinnamon, cardamom and salt. Set aside.

4. In a stand mixer fitted with a paddle attachment, combine brown sugar and eggs. Beat on medium speed until well-incorporated, about 2 minutes. Add remaining melted butter and beat for 1 minute. Add stout, molasses and fresh ginger. Mix until thoroughly combined.

5. Turn mixer off and add dry ingredients. Turn mixer on low and mix until combined, scraping down bowl if necessary. Stop machine. Stir in candied peel and crystallized ginger by hand.

6. Pour batter into prepared pan. Bake, rotating pan at halfway point, until a skewer inserted into centre comes out clean, 50 to 60 minutes.

7. Cool 10 minutes, then remove ring of springform pan. Cool for 1 hour on a cooling rack.

8. While cake is baking, make the orange peel garnish. Using a vegetable peeler, remove peel from oranges in long strips. Using a paring knife, trim off and discard any white pith. Set aside.

9. Juice oranges, strain and set aside.

10. Place peel in a small saucepan and cover with 3 cups (750 mL) cold water. Bring to a vigorous boil on high heat, then drain. Rinse peel and repeat process.

11. Place peel back into saucepan with sugar. Place juice in a measuring cup. Add enough water to make 1 cup (250 mL). Add to saucepan. Bring to a boil over high heat and reduce to maintain very gentle simmer—it should barely bubble. Cook, stirring occasionally, until reduced by 1/3 and contents of pan measure 1 cup (250 mL), about 30 minutes. Remove from heat and cool to room temperature before glazing cake.

12. Brush cake generously with orange syrup, then garnish with candied orange strips. Serve with Greek yogurt and any remaining syrup.
TIP Drained candied ginger in syrup can be used in place of crystallized ginger.
SHARE