Korean-Style Grilled Cheese Lobster
Early Summer 2021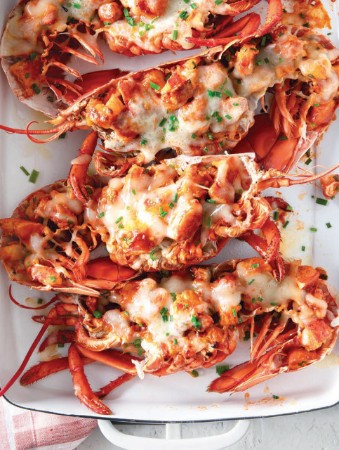 Korean-Style Grilled Cheese Lobster
Early Summer 2021
BY: Alison Kent
No, it's not a grilled cheese sandwich with lobster—though that's also delightful. This split and broiled lobster is based on a prized South Korean street food that's found in Myeongdong, a vibrant Seoul shopping district teeming with outdoor vendors. Serve it hot and bubbly with pickled vegetables, kimchi potato salad or ginger-lime slaw on the side.
2 lobsters, 1 1/2 lbs (680 g) each (see TIP 1)
2 tbsp (30 mL) sea salt
1/3 cup (80 mL) gochujang (Korean fermented red chili pepper paste)
3 tbsp (45 mL) dry sherry or mirin
2 tbsp (30 mL) rice vinegar
4 tsp (20 mL) honey
2 tsp (10 mL) toasted sesame oil
3 tbsp (45 mL) sliced chives or green onions, divided
1 1/4 cups (310 mL) shredded mozzarella
1. Fill a large deep pot with enough water to cover lobsters; add salt and bring to a full rolling boil over high heat.

2. Plunge each lobster headfirst into the water as quickly as possible. Immediately cover and return to a boil. Reduce heat to a lively simmer and cook until bright red, about 10 minutes. Transfer to the bowl of ice water to stop the cooking; let stand until cool enough to handle, about 5 minutes.

3. Twist off claws at the joint at the body and separate claw and arm parts. Crack arm (or use kitchen shears to cut); scoop out meat and transfer to a bowl. Break off a small part of the claw and remove meat; add to bowl. Crack a large part of the claw and pull out the meat, discarding strips of cartilage from each claw. Chop meat into bitesize pieces and add to bowl. Discard shells.

4. Cut the body of each lobster in half lengthwise. Remove meat and cut into bite-size pieces; add to claw meat. Chop and add red coral (roe) to bowl, if present. Use a small spoon to scrape inside of shells clean, discarding green tomalley (see TIP 2) and sand sac behind eyes. Arrange shells cut side up in lightly greased metal 13 x 9-inch (3.5-L) baking pan.

5. Set oven rack in the middle position; preheat broiler.

6. Stir together gochujang, sherry, vinegar, honey and oil. If very thick, thin out to sauce consistency by stirring in a spoonful or two of water.

7. Toss 1/4 cup (60 mL) gochujang mixture and half of the chives with lobster meat until coated. Divide evenly among reserved shells; spoon or brush remaining gochujang mixture evenly overtop. Cover lobster meat with cheese.

8. Broil until cheese is melted and golden, and lobster is heated for 3 to 5 minutes. Sprinkle with remaining chives.
TIP 1 Ask your fishmonger or market seafood department to precook lobsters for you if you prefer.

TIP 2 While tomalley is considered a delicacy by some, Health Canada recommends adults restrict their consumption due to natural toxins sometimes found in this organ.
SHARE