Homemade Bagels
Spring 2021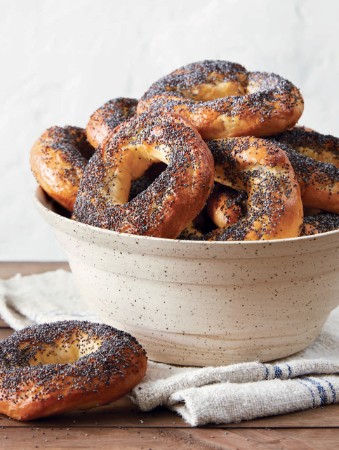 Homemade Bagels
Spring 2021
BY: Amy Rosen
Make the weekend that much better by whipping up a batch of homemade hot bagels. With a handful of ingredients you've likely already got on hand, and quick-rising and baking times, you'll be brunching in no time. This recipe is adapted from my book Kosher Style (Appetite by Random House, 2019).
DOUGH
3 1/2 cups (875 mL) all-purpose flour
2 pkgs (each 1/4 oz) active dry yeast
1 1/2 tsp (7 mL) sea salt
1 1/4 cups (310 mL) warm water
1/2 cup (125 mL) honey, divided
Vegetable oil

1 egg yolk beaten with 1 tbsp (15 mL) water for egg wash

1/4 cup (60 mL) sesame seeds or poppy seeds
1. In a stand mixer fitted with the dough hook, combine flour, yeast and salt. Slowly add water and 1/4 cup honey. Knead on low until the dough comes away from the sides and a soft, smooth ball forms, about 5 minutes.

2. Lightly oil a medium bowl and place dough ball inside, turning it over to make sure it's fully coated. Cover with a damp tea towel and set aside in a warm place for 30 minutes.

BAGEL FORMING
Here's where you start to feel like a real bagel maker, as you craft it into perfect rounds.

01 Lightly flour a work surface and roll the dough into a long rope, then cut into 12 equal pieces.

02 Roll each piece into an 8 to 9-inch (20 to 23-cm) long rope. Pinch the ends together to form a bracelet—a bagel bracelet.

03 Roll with the palm of your hand to seal the ends. Cover the bagels with a tea towel and let rest on the floured surface for 15 minutes.
BOILING + BAKING
Now you get to see your rounds of dough turn into real-life bagels. It's exciting!

04 Adjust an oven rack to the lowest position and preheat oven to 450°F (232°C). Line two baking sheets with parchment paper.

05 Bring a large pot of water (at least 10 cups/2.5 L) to a boil and add the remaining 1/4 cup (60 mL) honey.

06 Lower the heat to a simmer. Add 4 bagels at a time, simmer for 2 minutes, flip each bagel over, and simmer for 1 minute more. Remove bagels and place on prepared baking sheets. Repeat with 2 more batches of 4 bagels.

07 Divide bagels equally between the prepared baking sheets. Brush with egg wash and sprinkle each bagel with sesame seeds or poppy seeds (o ­place seeds on a plate and gently press bagels into seeds). 08 Bake, 1 sheet at a time, until cooked through and golden brown, 18 to 20 minutes.
SHARE