Herbes De Provence Veal with Creamy Brie
Spring 2018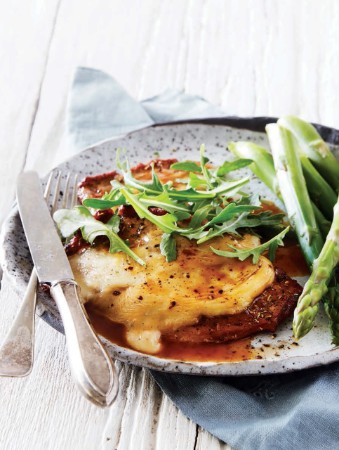 Herbes De Provence Veal with Creamy Brie
Spring 2018
BY: Monda Rosenberg
Veal always spells luxury. Its light and delicate flavour is the perfect canvas for a French blend of herbaceous herbs, a layer of deluxe creamy brie and a white wine drizzle—elevating it to any style of entertaining. Asparagus would be an ideal companion. Bon appétit!
1 lb (500 g) round of double crème brie
8 veal scaloppini, about 1½ lbs (750 g) total
2 tsp (10 mL) herbes de Provence
2 tbsp (30 mL) butter, divided
1½ cups (375 mL) dry white wine
4 cups (1 L) baby arugula, not packed
1. To make cheese easier to slice, place in freezer for 20 minutes. Then cut off all rind. Slice cheese in half, forming 2 half-circles. Place 1 half, cut-side down on a cutting board. Slice into 4 pieces, each about ¼ inch (5 mm) thick. Repeat with the second half.

2. Meanwhile, heat broiler with oven rack set 4 inches (10 cm) from the heat.

3. Lay veal slices on waxed paper. Sprinkle top sides only with herbes de Provence. Heat a large skillet over medium heat. Add 1 tbsp (15 mL) butter and tilt to coat. Add 3 to 4 pieces veal, seasoned-side down. Cook until they take on a little browning, from 1 to 1½ minutes a side. Remove to a large baking sheet. Repeat with remaining butter and meat.

4. Pour wine into pan and turn heat to high. Boil, scraping pan bottom often to release browned bits. When reduced to about ½ cup (125 mL), after about 5 minutes, remove pan from heat.

5. Lay cheese slices on veal. Place under broiler until cheese starts to melt, 1 to 1½ minutes. Arrange on plates or a platter. Drizzle with reduced wine sauce. Scatter arugula overtop and serve.
SHARE