Beet Tartare with Lettuce Cups
Spring 2021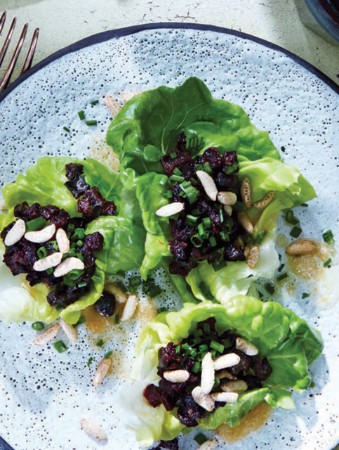 Beet Tartare with Lettuce Cups
Spring 2021
BY: Eric Vellend
Slowly roasting diced beets makes them intensely sweet with a slightly chewy, meaty texture. In addition to wrapping it in lettuce leaves, this vegan tartare is also excellent scooped with rice crackers, rice-based chips or small squares of nori.
2 lbs (905 kg) beets, peeled and cut in 1/3-inch (8-mm) dice
4 tbsp (60 mL) canola oil, divided
3 tbsp (45 mL) rice vinegar, divided
Salt and freshly ground pepper to taste
1 tbsp (15 mL) white miso paste
1 1/2 tsp (7 mL) sugar
1 tsp (5 mL) finely grated ginger
2 tbsp (30 mL) chopped fresh mint
Chopped fresh chives and puffed cereal (millet, rice or kamut) to garnish
Small lettuce leaves to serve
1. Preheat oven to 350°F (177°C).

2. In a mixing bowl, combine beets, 2 tbsp (30 mL) oil, 1 tbsp (15 mL) vinegar, salt and pepper. Mix thoroughly and transfer to parchment paper-lined baking sheet. (It will be crowded, but the beets will shrink.) Bake on middle rack, stirring every 15 minutes, until softened, slightly shrivelled and very sweet, 70 to 85 minutes. Remove from oven and let cool completely. Transfer to an airtight container. (Beets can be made and refrigerated up to 3 days in advance. Bring to room temperature before serving.)

3. In a small mixing bowl, whisk miso, sugar, ginger and remaining 2 tbsp (30 mL) vinegar until miso is dissolved. Slowly whisk in remaining 2 tbsp (30 mL) oil to form emulsified dressing.

4. Place beets and mint in a mixing bowl. Drizzle with enough dressing to lightly coat, saving rest for another use, and stir to mix. Divide among 6 salad plates. Sprinkle with chives and puffed cereal. Serve with lettuce leaves for wrapping.
SHARE