Basmati Rice Pudding with Baked Apricots & Pistachios
Summer 2021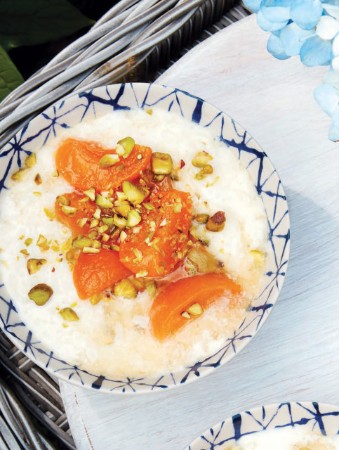 Basmati Rice Pudding with Baked Apricots & Pistachios
Summer 2021
BY: Eric Vellend
This summery dessert takes elements of classic Indian rice pudding (kheer) and adds a heady dose of vanilla and a topping of apricots baked in wine and honey. Served cold, it's rich and satisfying yet also refreshing. The pudding element is adapted from a Dorie Greenspan recipe in The New York Times.
RICE PUDDING
1/2 cup (125 mL) basmati rice
3 cups (750 mL) water
1/2 tsp (2 mL) fine sea salt
4 cups (1 L) whole milk
1/3 cup (80 mL) sugar
1/2 vanilla bean
BAKED APRICOTS
1 1/2 lbs (680 g) fresh ripe apricots
6 green cardamom pods
1/4 cup (60 mL) honey
3/4 cup (175 mL) dry aromatic white wine,
such as Riesling or Gewürztraminer
Chopped roasted pistachios for garnish
1. For the rice pudding, place rice in a sieve and rinse under cold running water. Transfer to a medium saucepan with water and salt. Bring to a boil over high heat. Reduce heat a few notches so it boils, but not violently. Cook until rice is just tender, about 12 minutes. Drain.
2. While rice is cooking, place milk and sugar in a large saucepan. Split the vanilla bean lengthwise. Scrape out seeds with the tip of a paring knife. Add seeds and pod to milk and place over medium-low heat to infuse.
3. Add cooked rice to milk mixture, raise heat to medium-high and stand over the pan (milk can boil over quickly). When it starts bubbling, reduce heat to maintain a simmer. (If it starts to boil over, stir and remove from heat.) Cook, stirring occasionally at the beginning and more frequently near the end until rice is very soft and pudding is thick and homogeneous rather than just rice suspended in liquid, about 35 minutes. Remove from heat. Remove the vanilla pod, rinse, dry out and save to infuse the sugar.
4. Transfer pudding to a heatproof bowl. Press plastic wrap against the surface of the pudding. Cool to room temperature. Cover bowl tightly with plastic wrap and refrigerate for up to 5 days.
5. For the apricots preheat the oven to 375°F (191°C).
6. Cut apricots in half. Remove and discard pits. If apricots are small, cut each half into 2 wedges. If large, cut each half in 3. Arrange in 1 layer, cut sides up, in a shallow baking dish.
7. With the flat side of a chef's knife, gently crush cardamom pods. Place in a small saucepan with honey and wine. Bring to a boil over high heat, whisking to dissolve honey. Pour over apricots. Bake, basting twice until apricots are soft, 20 to 25 minutes. Remove from oven. Cool completely. Carefully transfer apricots and syrup to an airtight container. Refrigerate for up to 5 days.
8. To serve, divide pudding among 6 small bowls. Top with some apricots and drizzle with a little syrup. Sprinkle with pistachios.
SHARE