Yellow Pepper & Almond Soup
Spring 2013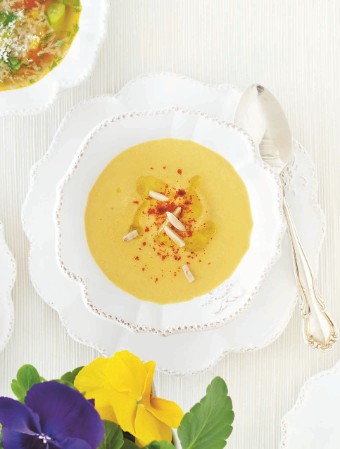 Yellow Pepper & Almond Soup
Spring 2013
BY: Tonia Wilson-Vuksanovic
This is a wonderful soup for vegetarians when made with vegetable stock as it offers lots of protein from the almonds.
1½ cups (375 mL) blanched almonds, slivered
2 tbsp (30 mL) olive oil
1 cup (250 mL) onions, coarsely chopped
1 cup (250 mL) carrots, peeled and finely sliced
2 tbsp (30 mL) garlic, coarsely chopped
½ tsp (2 mL) smoked Spanish paprika (sweet variety, not hot)
5 cups (1.25 L) yellow peppers, coarsely chopped (about 3 large peppers)
6 cups (1.5 L) chicken or vegetable stock
¼ cup (60 mL) plain bread crumbs
1 In a large pot, toast almonds over medium heat until light golden and fragrant, about 3 minutes. Do not burn, and stir constantly. Remove from pot and set aside.

2 Add oil to pot, sauté onions and carrots for 5 minutes. Add garlic, paprika and peppers to pot and sauté for 10 minutes. Add stock, almonds (reserving a few for garnish) and bread crumbs. Bring to a boil, cover, lower heat and simmer for 45 minutes.

3 Let cool slightly and purée soup in batches in blender. To create a velvety soup, strain solids from liquid. Purée the solids and some liquid in blender to make it fully smooth. Continue the process with the remaining liquid until all has been put through the blender. Return puréed soup to pot and gently warm through. Serve garnished with almonds, a drizzle of oil and a pinch of paprika.
SHARE