Wild Blueberry Hand Pies with Lemon-Lime Sherbet
Summer 2017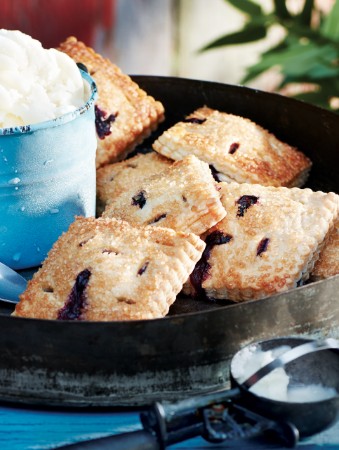 Wild Blueberry Hand Pies with Lemon-Lime Sherbet
Summer 2017
BY: Joanne Yolles
I think of wild blueberries as the precious jewels of an Ontario summer. I anxiously await their arrival every year. These hand pies can be easily eaten "out of hand" or served a little more formally, with our refreshing Lemon- Lime Sherbet and lightly sweetened whipped cream. Substituting cake flour for a portion of the all-purpose flour in the pastry results in a delicately tender crust.
1 recipe All Butter Pie Pastry (recipe follows), substituting half cake flour for the all-purpose flour, and shaped into two 4 x 4-inch (10 x 10-cm) squares

BLUEBERRY FILLING
1 cup (250 mL) wild blueberries
2 to 3 tbsp (30 to 45 mL) sugar
½ tsp (2 mL) fresh lemon or lime juice
1½ tsp (7 mL) cornstarch dissolved in 2 tsp (10 mL) cold water

1 egg beaten with 1 tbsp (15 mL) water for egg wash
Demerara sugar for sprinkling
1. Combine the wild blueberries, sugar and lemon or lime juice in a small saucepan. Place over medium heat and cook just until the sugar has dissolved and the blueberries begin to release their juice. Stir in the cornstarch mixture, bring to a boil and cook just until the juice thickens and becomes translucent—the berries should remain whole. Remove from heat and cool completely.

2. Line 2 baking sheets with parchment paper and set aside. On a lightly floured surface, roll 1 piece of dough to a 10½ x 10½-inch (26 x 26-cm) square. Using a fluted, square cookie cutter, or with a knife or pastry wheel, cut into nine 3½-inch (9-cm) squares, transfer to one of the baking sheets and refrigerate. Roll and cut the second piece of dough in the same fashion and transfer the squares to the second baking sheet. Refrigerate just until firm.

3. Remove the first set of squares from the fridge. Divide the blueberry filling among the squares, mounding it in the centre. Brush egg wash lightly around the edges of the dough.

4. Remove the second set of squares from the fridge. Using a sharp paring knife, cut several slits vertically and horizontally in each one. Gently stretch them open as you place them over each of the blueberry-topped squares. Gently press down the edges with your fingertips to seal. Refrigerate for 15 to 20 minutes.

5. Place 1 oven rack in the lowest position and the other rack in the middle position. Preheat the oven to 400°F (200°C).

6. Brush the chilled pies with egg wash and sprinkle with demerara sugar. Place on the lower rack and bake for 15 to 20 minutes. Transfer to the upper rack and bake another 10 to 15 minutes or until the fruit is bubbling and the pastry is golden brown. Serve warm with Lemon-Lime Sherbet (recipe follows).
ALL BUTTER PIE PASTRY

This classic pastry can be used for a variety of pies, large and small. It makes enough for a double crust pie, but if you're making a single crust, and you're like me, you'll make the full recipe and freeze the second piece for another time. You'll be happy to have one on hand the next time around. For the Fresh Fig and Raspberry Galette, do not divide the dough in half. It may seem to be too much, but it gets rolled out into a large circle. For the Peach and Redcurrant Slab Pie, double the recipe and divide into two rectangles, about 5 x 7 inches (12 x 18 cm). And for the Wild Blueberry Hand Pies, substitute half the all-purpose flour with cake flour, divide the dough in half and shape into two 4 x 4-inch (10 x 10-cm) squares.

2½ cups (625 mL) all-purpose flour
1 tbsp (15 mL) sugar
1 tsp (5 mL) salt
1 cup (250 mL) cold, unsalted butter, cut into ½ inch (1 cm) pieces
5 to 6 tbsp (75 to 90 mL) ice water
1. In a large bowl, whisk together the flour, sugar and salt. Add the butter pieces and toss to coat with flour. With your fingertips or a pastry blender, work the butter into the flour until the mixture resembles coarse meal. Some pea-sized pieces of butter should still be visible.

2. Drizzle 5 tbsp (75 mL) of ice water over the flour mixture and toss with a spatula or your hands until the water is incorporated. Gently squeeze the dough with your hands to bring it together. If the dough does not hold together, add more ice water in small increments, up to 1 more tbsp (15 mL).

3. On the work surface, gently pat the dough out to a rough rectangle about ½ inch (1 cm) thick. Fold the dough in half, and rotate the dough 90 degrees. Repeat the pressing and folding 1 or 2 more times until the dough comes together.

4. For 1 double crust pie, divide the dough in half and form into 2 flat discs. Wrap in plastic wrap and flatten a little more with your rolling pin. Refrigerate at least 2 hours, or preferably overnight.
Makes 1 double crust pie, or 2 single crust pies
LEMON-LIME SHERBET

It's time to get that ice-cream machine out of the cupboard. This sherbet is so refreshing— even better than an ice-cold glass of fresh lemonade.

¾ cup (175 mL) sugar
¾ cup (175 mL) water
Zest of 1 lemon and 2 limes
½ cup (125 mL) fresh lemon juice
½ cup (125 mL) fresh lime juice
¾ cup (175 mL) whole milk
1. Combine the sugar and water in a small saucepan and bring to a boil. Remove from heat and cool to room temperature.

2. Add the lemon and lime zests to the syrup.

3. Whisk in the lemon and lime juices along with the milk. Refrigerate the mixture for 2 hours or overnight.

4. Strain the mixture then freeze in an icecream maker according to the manufacturer's instructions.
SHARE