White Wine Cold-Poached Trout with Sage Gremolata
Autumn 2019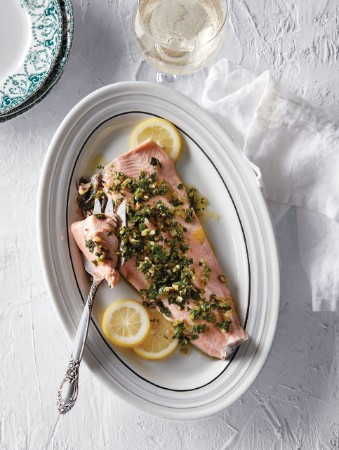 White Wine Cold-Poached Trout with Sage Gremolata
Autumn 2019
BY: Victoria Walsh
Infuse the fresh notes of a crisp white into fish with this easy cooking technique. A cold poached fish is simply prepared and makes dinnertime stress-free since the dish is chilled and ready-to-go in the fridge, just sprinkle with gremolata.
1 cup (250 mL) white wine such as Pinot Grigio or Sauvignon Blanc
3/4 lb (340 g) rainbow trout
Generous pinches of salt
1 lemon, sliced
1 shallot, sliced
1 tbsp (15 mL) whole peppercorns
3 cups (750 mL) water, approx.
SAGE GREMOLATA
2 tbsp (30 mL) finely chopped parsley
1 tsp (5 mL) finely chopped sage
1 shallot, finely chopped
1 tsp (5 mL) finely grated orange zest
1 tbsp (15 mL) olive oil
1/4 tsp (1 mL) kosher sea salt
1 Pour wine into a large skillet that's wide enough to fit the trout. Sprinkle fish with salt then add to pan. Add sliced lemon, shallot and peppercorns to wine. Pour water beside fish, filling skillet with water just until fish is covered. Set over high heat. Bring liquid to a simmer. Let trout cook until its surface appears to change colour, 10 minutes. Remove skillet with trout from heat. Let stand until cooked through, 5 minutes. Carefully remove fish to a platter. Let cool completely. Refrigerate until chilled and ready to eat, about 1 hour. If making ahead, poached trout will keep well, covered and refrigerated for up to 1 day.

2 Meanwhile, stir parsley with sage, shallot and orange zest in a small bowl. Stir in olive oil and salt. Serve cold-poached trout topped with sage gremolata on platter, allowing guests to serve themselves.
SHARE