Whisky Sour
SEPTEMBER 2018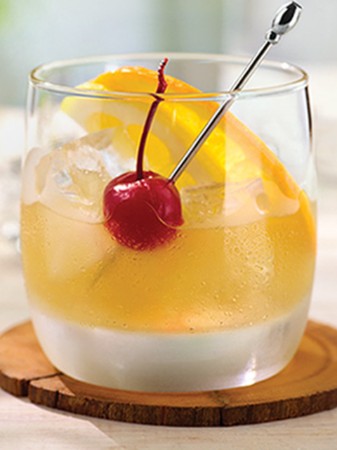 Whisky Sour
SEPTEMBER 2018
Bring a hint of retro chic to the party with this classic cocktail – an easy mix of whisky, lemon juice and simple syrup with a cherry on top.
2 oz whisky
½ oz fresh lemon juice
½ oz simple syrup (see recipe below)
Lemon or orange slice and Maraschino or fresh cherry
1. To a cocktail shaker filled with ice, add the liquid ingredients and shake vigorously.  Strain into a chilled sour glass filled with ice. Garnish with the lemon slice and cherry.

Simple Syrup

1 cup (250 mL) water
1 cup (250 mL) granulated sugar
1. Bring water to a boil. Stir sugar into the boiling water to dissolve, stirring constantly. When sugar has dissolved completely, cool syrup. Store in an airtight jar for up to 1 week.

If making ahead, store in a sealed jar in the refrigerator for up to 2 weeks.
Makes 1 1/2 cups (375 mL)
SHARE