Whipped Feta, Watermelon & Radish Salad
Summer 2017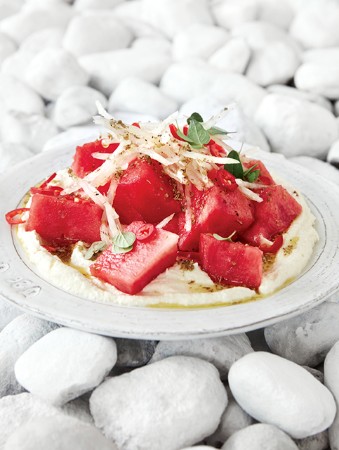 Whipped Feta, Watermelon & Radish Salad
Summer 2017
BY: Christopher St. Onge
Feta and cool watermelon is a winning salty-sweet combo. Be sure to rinse and press your feta before whipping otherwise your feta will liquefy—the finished whipped cheese should have a deli cream-cheese-like consistency.
WHIPPED FETA
8 oz (250 g) good-quality feta
2 tbsp (30 mL) whipping cream or plain yogurt
4 to 6 tbsp (60 to 90 mL) olive oil

1½ cups (375 mL) daikon radish cut into matchsticks
⅓ cup (80 mL) olive oil
2 tbsp (30 mL) lemon juice
1½ tsp (7 mL) dried oregano
1 tsp (5 mL) coarsely ground black pepper
Salt to taste
3 slices mini seedless watermelon, each 1 inch (2.5 cm) thick, rind removed
1 red cayenne or finger chili, halved lengthwise and thinly sliced
Fresh oregano leaves to garnish
1. Drain feta from brine if necessary and rinse under cool running water. Line a plate with several layers of paper towel, top with feta and weigh down with another plate topped with a can. Refrigerate for 1 hour. Crumble and combine in a food processor with cream and 4 tbsp (60 mL) olive oil; process until smooth. Add up to 2 tbsp (30 mL) oil, if necessary, to achieve a thick spreadable consistency.

2. Soak daikon in a bowl of ice water while preparing the remaining ingredients. Whisk together olive oil, lemon juice, dried oregano and pepper. Lightly season with salt (feta is salty). Cut watermelon into irregular 1 to 1½-inch (2.5 to 4-cm) chunks.

3. Spread an equal amount of feta out in a scant ½-inch-thick (1 cm) layer on six small plates. Divide watermelon between plates. Drain radish and pat dry with paper towels; toss with half the dressing and top watermelon portions with an equal amount of radish. Divide remaining dressing between plates and garnish each with chili and oregano leaves.
SHARE