Watermelon-Campari Granita
Summer 2020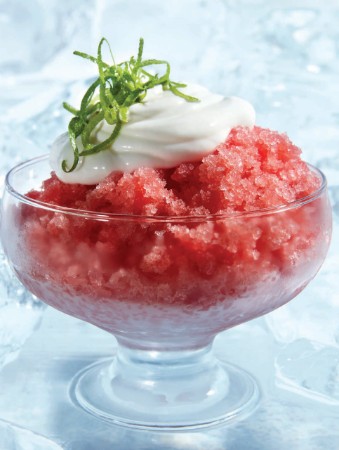 Watermelon-Campari Granita
Summer 2020
BY: Eric Vellend
A vibrant watermelon granita gets a hint of bitterness from Campari and extra sparkle from citrus juice. Easy to make, this refreshing treat could be served in small paper cones or Mason jars with espresso spoons.
½ cup (125 mL) fresh orange juice
¼ cup (60 mL) Campari
3 tbsp (45 mL) fresh lime juice
¼ cup plus 2 tbsp (90 mL) sugar
Large pinch salt
4 cups (1 L) cubed seedless watermelon
Lightly sweetened whipped cream to garnish (optional)
2 limes, washed


1 In a large mixing bowl, whisk orange juice, Campari, lime juice, sugar and salt until sugar is dissolved.

2 Purée watermelon in a blender until smooth, stopping to scrape down the bowl several times to get it moving. You should have 2½ cups (625 mL) watermelon juice.

3 Stir watermelon juice into bowl with other ingredients until combined. Transfer mixture to a 9 x 13-inch (23 x 33-cm) non-reactive baking dish and place in freezer. After 1 hour, stir, scrape and mash with a fork to prevent large ice crystals from forming. Stir, scrape and mash every 30_minutes until dry and fluffy, another 1½ to 2 hours more. (Granita will keep covered in freezer for 5 days. Fluff with fork before serving.)

4 Serve in chilled dishes with a dollop of whipped cream (if using) and a little lime zest grated overtop with a rasp.


SHARE