Warm Potato Salad
Automne 2009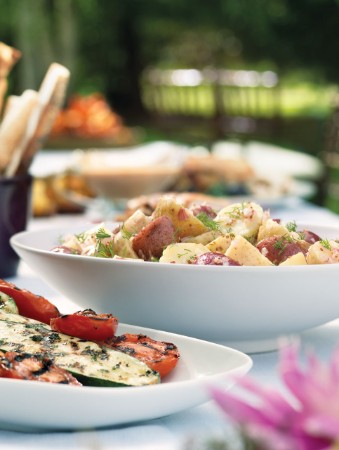 Warm Potato Salad
Automne 2009
BY: Lucy Waverman
Try to find potatoes that are similar in size, otherwise cut them to the same size leaving the smaller ones whole.
5 lbs (2.2 kg) mixed potatoes such as Yukon Gold, red, purple
½ cup (125 mL) chopped shallots
¼ cup (50 mL) cider vinegar
1 tbsp (15 mL) grainy mustard
1 tsp (5 mL) prepared horseradish
½ cup (125 mL) olive oil
Salt and freshly ground pepper
½ cup (125 mL) chopped chervil or dill
1. Place potatoes in a pot of cold salted water. Bring to boil over high heat and boil for 10 to 15 minutes or until tender. Drain well and return potatoes to pot. Turn burner off, place pot over turned-off burner and shake to dry potatoes out. Cut potatoes in half.

2. Whisk together shallots, cider vinegar, mustard and horseradish. Slowly whisk in oil. Mixture will emulsify. Season well with salt and pepper.

3. Pour dressing over potatoes while they are still warm and toss together. Scatter with chopped chervil or dill.

4. To serve, reheat on platters in a 350°F (180°C) oven just until warm, or briefly microwave.
SHARE