Vietnamese Pomelocabbage Salsa
Early Summer 2018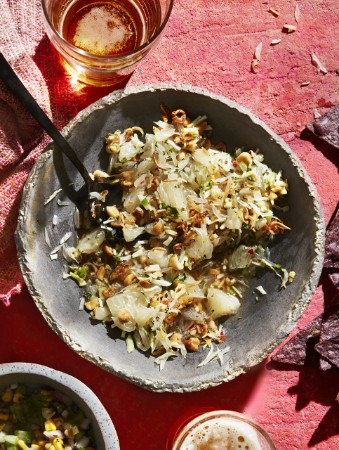 Vietnamese Pomelocabbage Salsa
Early Summer 2018
BY: Amy Rosen
The pomelo is a wonderful grapefruit-like citrus fruit, native to Southeast Asia. It has a very thick skin and tough interior membranes, so it's a bit of work getting to the flesh. But, once you do, you're rewarded with a mild-tasting fruit that is neither tart, bitter, nor too sweet, making it a perfect match for the crunchy cabbage and Asian flavours of this salsa. If you can't find pomelos (though they're now widely available in supermarkets), you can substitute with sweet grapefruit.
2 medium pomelos
2 cups (500 mL) green cabbage, finely shredded then roughly chopped
¼ cup (60 mL) mint leaves, chopped
2 tbsp (30 mL) cilantro, chopped
¼ cup (60 mL) roasted salted peanuts, chopped
¼ cup (60 mL) crispy fried shallots (available at Asian markets)

DRESSING
2 tbsp (30 mL) fish sauce
Juice of 2 limes
1 tbsp (15 mL) water
2 tbsp (30 mL) sugar
1 garlic clove, minced
¼ tsp (1 mL) red pepper flakes
1 Cut the ends off of the pomelos and then cut off the skin and pith to reveal the flesh. Pull the pomelos open and, using your fingers, peel away the flesh from the tough membranes (it's actually easier than using a knife). As you pull apart the segments, add the fruit to a large bowl. When done, break the segments into bite-sized pieces, and then add the cabbage to the bowl, along with mint, cilantro, peanuts and fried shallots.

2 For the dressing, combine fish sauce, lime juice, water, sugar, garlic and red pepper flakes in a small bowl. Stir together until sugar dissolves. Taste and adjust seasoning if needed—maybe more sugar, maybe more lime, maybe a touch more fish sauce. It's all a magical balancing act.

3 Right before serving, add the dressing to the large bowl and toss well to coat.


SHARE