Vegetarian Soup
Hiver 2016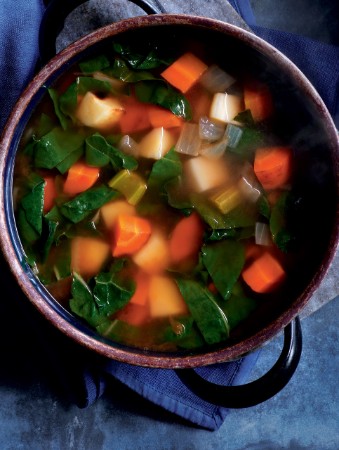 Vegetarian Soup
Hiver 2016
BY: Lucy Waverman
To make a fast nutritious vegetarian soup, boil some tiny pasta and add it to the vegetable stock (recipe follows) along with some slivered basil leaves and a grating of Parmesan cheese.
VEGETABLE STOCK

With vegetable stock, it is better to sauté the vegetables before adding liquid, as your broth will be more flavourful. I find that cooking the broth for 1½ hours is the optimal time. Simmered longer, the stock does not improve and gets a bit of an overcooked flavour.

2 tbsp (30 mL) olive oil
4 cups (1 L) coarsely chopped onion
2 large carrots, chopped
2 stalks celery, chopped
1 parsnip, coarsely chopped
6 large garlic cloves, unpeeled
½ cup (125 mL) white wine
2 canned tomatoes, crushed
Approx. 6 leaves of Swiss chard or romaine, sliced
1 bay leaf
6 parsley stalks
1 sprig fresh thyme or a pinch dried thyme
6 peppercorns
1 Heat oil in large stockpot on medium heat. Add onions, carrots, celery and parsnip. Sauté in the oil until the edges of the vegetables start to turn brown, about 10 minutes. Add garlic and stir together.

2 Pour in wine and bring to boil. Boil for 2 minutes or until the wine is reduced a little. Add tomatoes, Swiss chard, bay leaf, parsley stalks, thyme and peppercorns. Add enough water to cover by 2 inches (5 cm). Bring to a boil, then reduce heat to simmer and cook for 1½ hours.

3 Strain, discarding vegetables.
Makes about 6 cups (1.5 L)
SHARE