Vegan Holiday Spiced Cinnamon Buns
Holiday 2018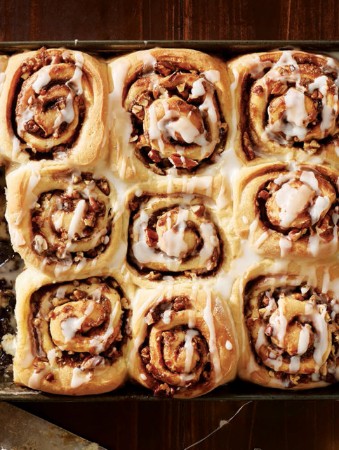 Vegan Holiday Spiced Cinnamon Buns
Holiday 2018
BY: Michelle Lucas Larving
Walnut oil enriches both the dough and filling to create an immensely flavourful cinnamon bun that's full of nutty undertones and holiday spices. As with most sticky buns, these are best served straight from the oven but can be made ahead of time and re-warmed to replicate that freshly baked taste.
DOUGH
1½ cups (375 mL) unsweetened nut milk, preferably cashew, warmed to 120°F (50°C).
2 tbsp (30 mL) granulated sugar, divided
2¼ tsp (11 mL) active dry yeast
4 cups (1 L) all-purpose flour
¼ cup (60 mL) walnut oil
1¼ tsp (6 mL) salt
Vegan baking spray

FILLING
1 cup (250 mL) dark muscovado sugar, lightly packed
⅓ cup (80 mL) walnut oil
2 tbsp (30 mL) maple syrup
4 tsp (20 mL) cinnamon
1½ tsp (7 mL) ground ginger
¼ tsp (1 mL) freshly grated nutmeg
⅛ tsp (0.5 mL) ground cardamom
1½ cups (375 mL) chopped pecans

GLAZE
1 cup (250 mL) icing sugar
4 tsp (20 mL) water
1. In the bowl of a stand mixer, combine milk with 1 tsp (5 mL) sugar and yeast. Let stand until foamy, 5 minutes.

2. Using the dough hook attachment, mix in remaining 1 tbsp plus 2 tsp (25 mL) granulated sugar, flour, ¼ cup (60 mL) walnut oil and salt on low speed until combined. Increase speed to medium and continue mixing until dough is smooth and pulls cleanly away from the sides of the bowl, 8 to 10 minutes. Transfer to a lightly floured surface and knead into a ball. Place in a well-oiled bowl and cover with plastic wrap. Let stand until doubled in size, about 1 hour.

3. Arrange rack at centre of oven. Preheat to 350°F (180°C). Generously spray a 9 x 13-inch (3-L) baking dish with vegan baking spray. Set aside.

4. In a medium bowl, combine muscovado sugar with ¦ cup (80 mL) walnut oil, maple syrup, cinnamon, ginger, nutmeg and cardamom. Punch down dough and transfer to a well-floured surface. Roll out into a 24 x 14-inch (60 x 35-cm) rectangle. Using your fingertips, crumble sugar mixture over dough, leaving a ½-inch (1-cm) border. Sprinkle evenly with pecans. Starting from the bottom, tightly roll dough upwards to form a log. Pinch dough together to seal. Trim edges if needed. With the seam-side down, cut dough crosswise with a sharp knife into 12 even slices, each about 1½ to 2 inches (4 to 5 cm) wide. Arrange, cutside up, in prepared baking dish. Cover with plastic wrap and let rise until almost doubled in size, 45 more minutes.

5. Bake in centre of oven until golden, 30 minutes. Transfer to a wire rack and let cool slightly, 10 minutes.

6. Meanwhile, in a small bowl, combine icing sugar with water. Drizzle over warm buns and serve immediately.
SHARE