Vegan Clover Club
Début de l'été 2018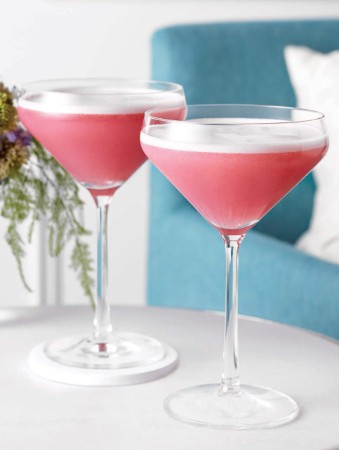 Vegan Clover Club
Début de l'été 2018
BY: Eric Vellend
Aquafaba is the leftover liquid from cooking beans. It's often used as a substitute for egg whites due to its ability to hold foam when whipped. Here the liquid from canned chickpeas creates a frothy, creamy Clover Club, the classic raspberry-flavoured Gin Sour. For the best results, use the widely available Eden brand, which is organic and has no salt added.
2 oz gin
¾ oz liquid from canned chickpeas, preferably organic
¾ oz strained fresh lemon juice
½ oz Simple Syrup (recipe follows)
1 tsp (5 mL) good-quality raspberry jam
1. Place ingredients in a cocktail shaker. Hold tightly and shake vigorously for 30 seconds. Fill three-quarters with ice. Shake 15 seconds. Strain through sieve into chilled coupe. Serve immediately.
SIMPLE SYRUP

1. Combine equal parts sugar and boiling water, stir until sugar has dissolved, and store in fridge until chilled.
SHARE