Veal Saltimbocca
Temps des Fêtes 2010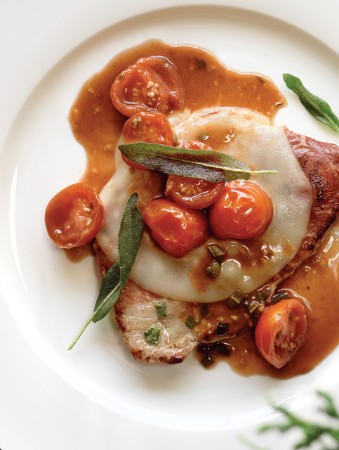 Veal Saltimbocca
Temps des Fêtes 2010
BY: Lucy Waverman
When I was in Rome I had a veal saltimbocca which, instead of being rolled, was served flat. This helped to maintain the texture of the veal and prevent it from being dry. Layered with prosciutto and cheese and pan fried it is a much more interesting dish. Escalope of veal are slightly thicker than scaloppini. They are usually cut from the leg.
SAUCE
1 tbsp (15 mL) olive oil
2 cups (500 mL) cherry tomatoes, halved
2 tbsp (25 mL) red wine
1/4 cup (50 mL) chicken stock
1 tsp (5 mL) chopped fresh sage
Pinch sugar
Salt and freshly ground pepper

VEAL
4 slices escalope of veal
Salt and freshly ground pepper
2 tsp (10 mL) coarsely chopped sage leaves
4 slices prosciutto
3 tbsp (45 mL) butter
4 slices provolone cheese

GARNISH
Fried Sage Leaves
1 Heat olive oil in a small sauté pan over medium-high heat. Add cherry tomatoes and cook for 5 minutes or until very soft. Add red wine and bring to a boil. Add stock, sage and a pinch of sugar, bring to a boil, turn heat to low and cook for 2 minutes or until sauce has come together. Season with salt and pepper to taste. Set aside.

2 Season veal on both sides with salt and pepper. Sprinkle with chopped sage and top with a slice of prosciutto, tucking any overhanging edges under the veal.

3 Melt 1 1/2 tbsp (22 mL) butter in a large heavy skillet over high heat until foaming. Working in batches, cook veal in a single layer, prosciutto-side down, until brown, adding more butter as needed, about 1 minute. Using a spatula, carefully turn veal over, keeping prosciutto intact. Top with provolone and cook until brown and cheese is melted, about 1 minute longer. Serve veal with fresh cherry tomato sauce and garnish with 3 or 4 Fried Sage Leaves (recipe follows).

FRIED SAGE LEAVES:
Lightly coat sage leaves with flour. Heat just enough oil to fill the bottom of a small skillet over high heat. Add leaves and fry until crisp. Drain on paper towels.
SHARE