Tuscan Farro Salad
Summer 2013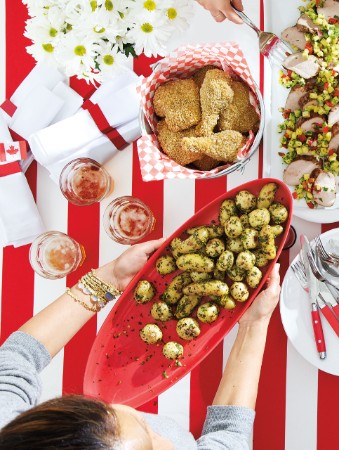 Tuscan Farro Salad
Summer 2013
BY: Monda Rosenberg
When we think heritage grains, farro should be one of the first to come to mind: it's not only the grain that fed people around the Mediterranean for years but the mother grain from which all others are thought to have originated. It couldn't be a smarter choice for a potluck salad as farro is chewier than most grains, and its high fibre and protein count make it a darling for vegetarians. Here, we have highlighted it with nutrient-rich, lively and colourful Italian vegetables in a salad that's an excellent traveller since it doesn't contain mayonnaise or delicate greens to wilt away, and it doesn't have to be icy cold to be good.
2 cups (500 mL) farro or barley
8 cups (2 L) water
2 tsp (10 mL) salt, divided
¼ cup (60 mL) each of olive oil and white balsamic vinegar
½ cup (125 mL) finely chopped red onion
6 large garlic cloves, minced or crushed
½ cup (125 mL) finely chopped sun-dried tomatoes packed in oil
1 tbsp (15 mL) each of dried basil and dried leaf oregano
1 tbsp (15 mL) fennel seeds (optional)
3 cups (750 mL) grape tomatoes, preferably heirloom in a mix of colours
2 roasted red peppers
1 cup (250 mL) shredded fresh basil leaves
1½ cups (375 mL) coarsely chopped flat-leaf Italian parsley
1 Toast farro or barley by placing in a large saucepan set over medium heat. Stir and shake pan often until grains are fragrant and start to darken, 5 to 8 minutes. Add 8 cups (2 L) water and 1 tsp (5 mL) salt. Cover and when it comes to a boil, reduce heat and simmer, stirring occasionally, until tender, from25 to 30 minutes for farro and 45 minutes for barley. Grains should remain a little chewy.

2 While farro is cooking, prepare dressing and vegetables. In a large bowl, whisk oil with vinegar and remaining 1 tsp (5 mL) salt. Stir in onions, garlic, sun-dried tomatoes, dried basil and oregano. Add fennel seeds if using. Slice tomatoes in half. Stir into the dressing. Cut peppers into julienne strips.

3 Line 2 large, rimmed baking sheets with parchment paper to make it easier to remove farro from the pans after cooling. When farro is cooked, drain well and spread out on the lined baking sheets. Refrigerate until cooled to room temperature, about 30 minutes. Then stir into the dressing and vegetables. Leave at room temperature for up to 4 hours or cover and refrigerate overnight. Stir in the fresh basil and parsley just before serving.
SHARE