Tomato, Watermelon and Feta Salad
Summer 2008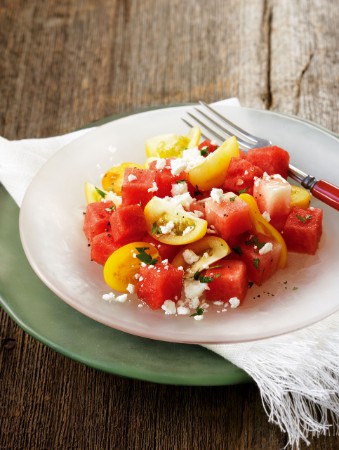 Tomato, Watermelon and Feta Salad
Summer 2008
BY: Jennifer MacKenzie
This cooling salad is the perfect accompaniment to a barbecued dinner on a hot summer evening. Small, sweet and tangy cherry or teardrop tomatoes pair wonderfully with sweet watermelon and salty feta cheese. Jaune Flamme, Yellow Pear, Mennonite Cherry and Lemon Drop are a few varieties you might find. If small tomatoes aren't available, chop larger tomatoes, draining off seeds and juice before adding to the watermelon. To add even more interest, try this recipe using pink or red tomatoes such as Camp Joy or Thai Pink Egg with yellow watermelon.
4 cups (1 L) cubed watermelon
2 cups (500 mL) halved or quartered small yellow tomatoes
½ cup (125 mL) crumbled feta cheese
2 tbsp (25 mL) chopped fresh basil
2 tbsp (25 mL) red wine vinegar
Salt and freshly ground black pepper
1. Combine watermelon, tomatoes and feta in a large bowl. Toss gently to combine. Chill for up to 4 hours.

2. Just before serving, transfer to a serving bowl, draining off excess juice. Sprinkle with basil and vinegar and season with salt and pepper to taste. Toss gently to combine.
SHARE