Toasted Pecans on Pimento Cheese
Early Summer 2018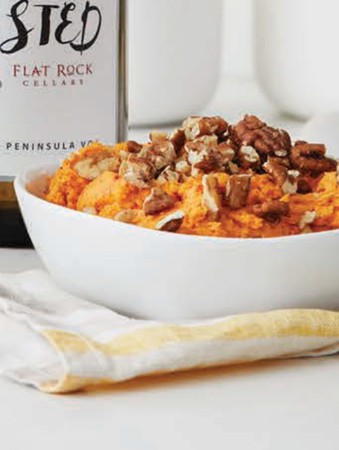 Toasted Pecans on Pimento Cheese
Early Summer 2018
BY: Eric Vellend
A Kentucky staple for generations, this simple spread is an upmarket take on the spreadable cheese products of our youth. The slight spiciness and toasted nuttiness pairs well with the wines.
½ cup (125 mL) pecans
9 oz (280 g) sharp cheddar cheese, chopped
4 oz (125 g) full-fat cream cheese
1 jar (225 mL) diced pimentos, about 1 cup (250 mL), drained
¼ tsp (1 mL) cayenne pepper
2 dashes Worcestershire sauce
Ritz Crackers and celery sticks, for serving
1. Toast the pecans in a small pan over medium heat for 2 to 3 minutes. Let cool, then pulse a few times in the food processor so they look nicely crumbled with some texture.

2. Wipe out processor then blitz the cheddar with the cream cheese, pimentos, cayenne and Worcestershire until smooth. Spoon into a serving bowl, sprinkle with pecans and serve with Ritz crackers and celery sticks for a traditional taste of the south.
SHARE