The Blue Lavender Collins
Spring 2014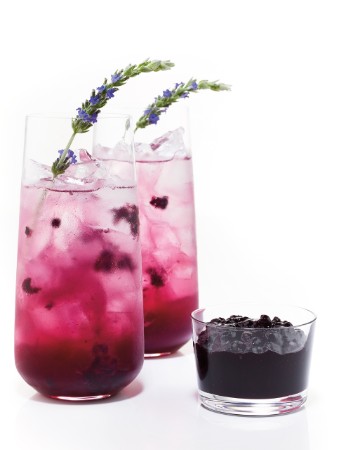 The Blue Lavender Collins
Spring 2014
BY: Michelle P. E. Hunt and Laura Panter
There are a few brands of blueberry-lavender jams on the market, made in small batches by artisanal producers. We were especially fond of Sallie's Greatest Jams, which had a very nice lavender taste that carries through the palate. You can substitute the Michaels dolce brand, which boasts all-Canadian blueberries.
In a cocktail shaker filled with ice, add 1½ oz vodka, ½ oz lemon juice, ½ oz Simple Syrup (recipe follows) and ½ oz blueberry-lavender jam. Shake and strain into a tall glass with ice. Top with 2 oz soda water and garnish with a sprig of lavender (or substitute thyme).
SIMPLE SYRUP
To a heatproof container, add 1 cup sugar and 1 cup boiling water. Stir to dissolve. Allow to cool. Cover and store, refrigerated, for up to 4 weeks.
SHARE