Thai Beef Salad
Summer 2011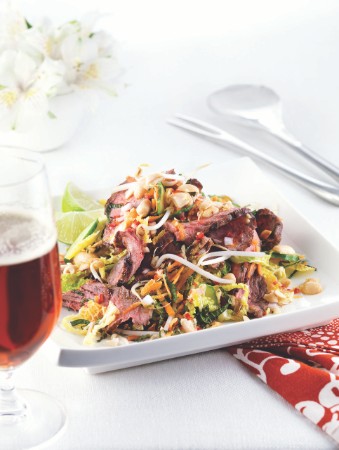 Thai Beef Salad
Summer 2011
BY: Heather Trim
Super fresh tasting, this salad is as good with steak as it is with chicken or whole shrimp.But watch those chilies as they are really hot!
2 tbsp (30 mL) each lime juice and vegetable oil
1 tbsp (15 mL) each dark sesame oil and fish sauce
2 tsp (10 mL) granulated sugar
1 tbsp (15 mL) finely minced ginger
1 to 2 tsp (5 to 10 mL) very finely minced hot red chili pepper, such a habañero
¼ tsp (1 mL) salt
4 cups (1 L) thinly sliced Savoy cabbage
1 mini cucumber, thinly sliced diagonally
1 medium carrot, coarsely grated
1 cup (250 mL) bean sprouts
⅓ cup (80 mL) shredded mint leaves
¼ cup (60 mL) diced red onion
Thinly sliced leftover grilled steak (about ½ strip loin)
2 tbsp (30 mL) salted roasted peanuts (optional)
1 In a large bowl, whisk lime juice with vegetable oil, sesame oil, fish sauce and sugar until sugar is dissolved. Stir in ginger, chili and salt.

2 Add cabbage, cucumber, carrot, bean sprouts, mint, red onion and steak. Toss to combine. Sprinkle with peanuts.
SHARE