Tart of Wild Leeks and Mushrooms in Garlic Cream
Summer 2008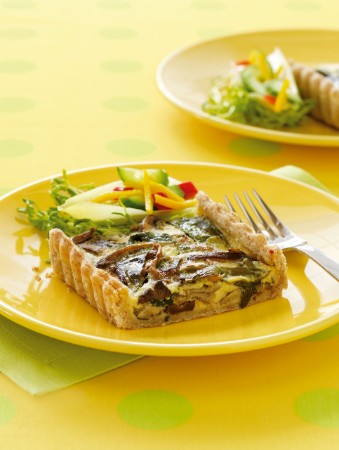 Tart of Wild Leeks and Mushrooms in Garlic Cream
Summer 2008
BY: Eshun Mott
The season for wild leeks is short. If you cannot find them you can substitute 5 green onions for the bunch of leeks and increase the chopped garlic to 1 tsp (5 mL).
1½ cups (375 mL) whipping cream
2 cloves garlic, peeled
1 large egg
Salt and freshly ground pepper
2 tbsp (25 mL) unsalted butter
8 oz (250 g) mixed mushrooms (shiitake, porcini, cremini, oyster etc.), stems removed where necessary and thickly sliced
½ tsp (2 mL) chopped garlic
1 bunch wild leeks cleaned well and cut into 1-inch (2.5-cm) lengths
2 tbsp (25 mL) white wine
½ tsp (2 mL) chopped fresh thyme
One 4 x 13-inch (10 x 33-cm) tart shell, partially baked
1. Preheat oven to 350°F (180°C).

2. Place whipping cream and garlic cloves in a large pot over medium-high heat. Bring cream to a boil then turn heat down to low and simmer gently for 25 minutes or until cream is flavoured with the garlic and reduced to 1 cup (250 mL) and garlic is very soft. Set aside to cool. Remove garlic cloves, mash with a fork and return to cream. When cool add egg and beat until uniform. Season with salt and pepper.

3. Heat 1 tbsp (15 mL) butter in a skillet over medium-high heat. Add mushrooms and sauté for 2 to 3 minutes or until browned. Add chopped garlic and sauté for 1 minute more. Season with salt and pepper to taste and scrape into a bowl.

4. Add remaining tablespoon (15 mL) of butter to pan and heat over medium heat. Add leeks and sauté for 1 minute or until they are softened. Add wine and thyme to pan and cook, stirring, for 1 minute more or until leeks are limp and the liquid has evaporated. Remove from heat.

5. Arrange mushrooms and leeks in tart shell and pour cream overtop (making sure that mushrooms and leeks peep through the cream.

6. Bake for 30 minutes or until set and lightly golden. Let cool 10 minutes before serving.
SHARE