Tahini & Caramel Ice Cream
Early Summer 2019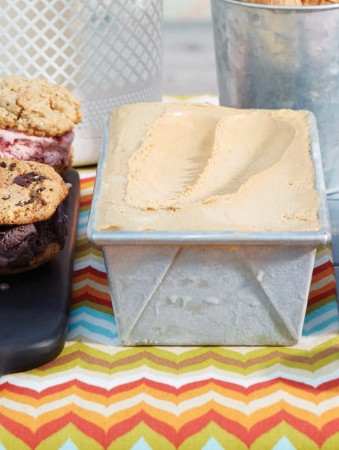 Tahini & Caramel Ice Cream
Early Summer 2019
BY: Christopher St. Onge
I've been a life-long chocolate-only ice cream lover, forsaking all other kinds for my favourite. This one changed everything. In fact, I doubt I'll leave the house as long as there's some of it in the freezer.
1 cup (250 mL) sugar, divided
2 tbsp (30 mL) water
2 cups (500 mL) whipping cream, divided
½ tsp (2 mL) salt
¼ tsp (1 mL) vanilla paste or extract
3 egg yolks
½ cup (125 mL) whole milk
⅔ cup (150 mL) well-stirred tahini
1 Heat ¾ cup (175 mL) sugar and the water in a large saucepan over medium heat. Bring to a boil and let cook 10 to 12 minutes or until beginning to turn golden; swirl pan and continue to cook until deep amber.

2 Add 1 cup (250 mL) whipping cream (mixture will sputter) and stir until caramel is dissolved; remove from heat. Stir in salt and vanilla paste; let cool to room temperature.

3 In a large heatproof bowl, whisk egg yolks with remaining ¼ cup (60 mL) sugar.

4 In a clean medium pot, heat remaining 1 cup (250 mL) cream and the milk over medium heat until steaming; slowly whisk in half of milk mixture into egg mixture. Add egg mixture to remaining milk mixture in pot and cook, stirring constantly, until thickened (do not let mixture boil). Whisk in caramel mixture, then tahini; chill for 2 to 3 hours, stirring mixture occasionally.

5 Prepare in ice cream maker according to manufacturer's instructions. Scrape into an airtight container and freeze until firm.
SHARE