Stuffed Pork Tenderloins with Fresh Cranberry Compote
Temps des Fêtes 2009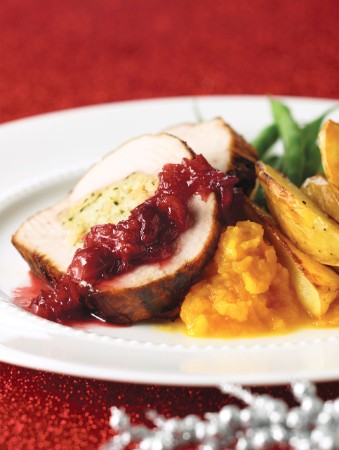 Stuffed Pork Tenderloins with Fresh Cranberry Compote
Temps des Fêtes 2009
BY: Marilyn Bentz-Crowley
For a festive meal, serve this dish with roast potatoes, squash and green beans almandine. Both the compote and stuffed loins can be prepared earlier in the day.
Cranberry Compote
⅓ cup (75 mL) finely diced red onion
2 tbsp (25 mL) water
2 cups (500 mL) fresh cranberries, divided
¾ cup (175 mL) dry red wine
½ cup (125 mL) granulated sugar
1 large apple or almost-ripe pear, peeled and grated
2 tsp (10 mL) freshly grated ginger
1 cinnamon stick

Roast
3 tbsp (45 mL) butter
⅓ cup (75 mL) finely chopped onion
1 tbsp (15 mL) chopped fresh sage, or 1½ tsp (7 mL) dried
3 tbsp (45 mL) chopped fresh parsley
¼ tsp (1 mL) each of salt and freshly ground black pepper
½ cup (125 mL) chicken broth
4 cups (1 L) coarse fresh bread crumbs
2 large pork tenderloins, each about 1 lb (500 g)
1 tbsp (15 mL) peanut or canola oil
¼ cup (50 mL) cranberry compote
2 tbsp (25 mL) maple syrup
1. For compote, combine onion and water in a medium saucepan over medium heat. Bring to a boil. Meanwhile cut ½ cup (125 mL) of cranberries in half; set aside.Stir remaining cranberries, red wine, sugar, apple and ginger into onions. Add cinnamon stick.

2. Bring to a low boil, stirring frequently.Adjusting heat as needed, briskly simmer mixture, uncovered, for 15 minutes. Stir in reserved cranberry halves; simmer another5 minutes. Cool, cover and refrigerate until needed. (Compote can be made 2 to 3 days ahead.)

3. For roast, heat butter in a large frying panover medium heat until bubbly. Add onions;sauté 3 minutes. Stir in herbs, salt and pepper; remove from heat. Add broth and breadcrumbs; toss until evenly coated. (Crumbs feel moist, not wet.)

4. Lay tenderloins on cutting board; remove any surface fat or silver skin. Cutting only halfway into meat, slice length of each loin. Open up like a book. Lay a piece of plastic wrap underneath and over top; use smooth side of a meat pounder or bottom of heavy skillet to pound loins until about ¾ inch(2 cm) thick.

5. Cut-side up, firmly press stuffing onto loin. Then top with other loin, cut-side down towards stuffing. Use cooking twine or silicone bands to bind together at each end and on either side of centre point. Firmly stuff any dislodged filling back into meat. (Stuffed loin can be covered and promptly refrigerated for up to half a day.)

6. Preheat oven to 350°F (180°C).

7. Heat oil in a large, ovenproof frying pan over medium heat until very hot. Sauté stuffed pork in frying pan until browned, about 5 minutes per side.

8. Meanwhile mash measured compote with a fork; stir in maple syrup. Spread about half over pork top. Place roast, still in frying pan, on centre rack in oven. Roast, uncovered for 20 minutes; spoon remaining glaze over top.Continue roasting for 20 minutes or until thermometer shows 150°F (65°C).

9. Remove roast from oven to stovetop; immediately cover with foil. Rest 15 minutes to complete cooking. Temperature rises to 160°F(70°C) during this rest. Then cut away strings; slice roast about ¾ inch (2 cm) thick. Serve with cranberry compote.
SHARE