Strip-loin Roast & Smoky Chimichurri
Summer 2017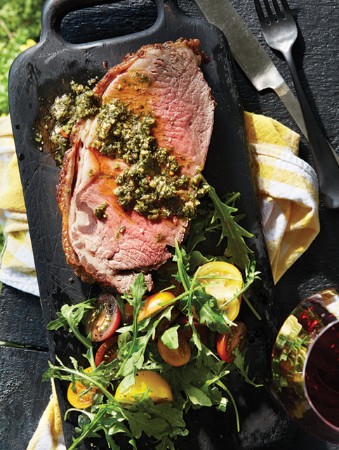 Strip-loin Roast & Smoky Chimichurri
Summer 2017
BY: Christopher St. Onge
This premium roast is at its best cooked over a charcoal-fired rotisserie. The salmuera, a salt and water brine favoured in  Argentina, is brushed on the roast repeatedly, attracting smoke and building deep flavour along the way. Don't sweat it if you don't have a charcoal grill—it's great on a gas rotisserie too, and the accompanying chimichurri adds its own kind of fireworks. Because the thickness and not the length of the roast determines cooking times, scale cooking time up or down, as required.
1 cup (250 mL) warm water
2 tbsp (30 mL) kosher salt
4 to 6 lb (2 to 2.7 kg) beef strip-loin roast

SMOKY CHIMICHURRI

1 cup (250 mL) firmly packed parsley
⅓ cup (80 mL) firmly packed oregano leaves
4 cloves garlic
½ tsp (2 mL) sweet smoked Spanish paprika
½ tsp (2 mL) dried chili flakes
3 tbsp (45 mL) sherry or red wine vinegar
2 tbsp (30 mL) water
⅓ cup (80 mL) olive oil
Salt and freshly ground black pepper
1. Set up your gas or charcoal grill for rotisserie cooking and maintain a temperature of 350°F (180°C). Set a drip tray (a disposable  aluminum roasting pan is best) half filled with water under where roast will turn. Keep a pitcher of water handy to refresh water as  necessary.

2. Make the salmuera by combining warm water and salt; stir to dissolve.

3. Thread spit lengthwise through the centre of roast and secure with picks. Mount in rotisserie brackets and turn rotisserie on.  Cook for 1½ to 2 hours, brushing with salmuera every 15 to 20 minutes, or until a thermometer inserted into thickest part registers 125°F (52°C) for medium-rare (roast will rise in temperature several degrees after removing).

4. Meanwhile, combine all of the smoky chimichurri ingredients (except the salt and pepper) in a food processor. Pulse until mixture resembles pesto, scraping down sides as necessary. Season generously with  salt and pepper. Turn it out into a small bowl; let stand while roast is cooking.

5. Carefully transfer roast to a board, tent with foil and let rest for 15 minutes. Remove spit, and cut roast into thick slices. Serve the chimichurri alongside.
SHARE