Strawberry Salad with Goat Cheese, Pistachio and Oven-Fried Chicken Thighs
Early Summer 2018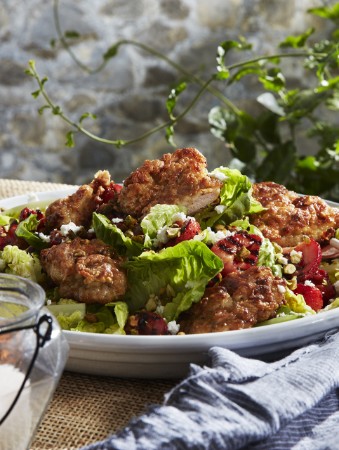 Strawberry Salad with Goat Cheese, Pistachio and Oven-Fried Chicken Thighs
Early Summer 2018
BY: Lucy Waverman
Little gem lettuce, which looks like crinkled romaine lettuce, is more readily available today. A standard lettuce in Europe, it is becoming popular here for its crunch and flavour. If it is not available, use hearts of romaine or baby romaine leaves. The chicken sits on top of the salad, giving a melange of flavours and textures. Grilling the strawberries intensifies their sugar for a different taste and look, but the salad is just as good with sliced fresh strawberries if they are really sweet.
MARINADE
1 cup (250 mL) buttermilk
1 tbsp (15 mL) Dijon mustard
2 tsp (10 mL) chopped fresh rosemary
1 tsp (5 mL) chopped garlic
Salt and freshly ground pepper
8 boneless skinless chicken thighs, about 2 lbs (905 g)

BREADING
1 cup (250 mL) all-purpose flour
2 tbsp (30 mL) cornstarch
2 tsp (10 mL) dry mustard
1 tsp (5 mL) baking powder
Salt and freshly ground pepper
¼ cup (60 mL) vegetable oil
6 wooden skewers

LEMON DRESSING
2 tbsp (30 mL) lemon juice
½ tsp (2 mL) freshly ground pepper
⅓ cup (80 mL) olive oil
Salt to taste

SALAD
3 cups (750 mL) large strawberries
1 tbsp (15 mL) balsamic vinegar
1 tsp (5 mL) granulated sugar, if needed
4 little gem lettuces, root removed, separated into leaves
¼ cup (60 mL) toasted and chopped pistachios
1 cup (250 mL) crumbled goat cheese
1 Combine buttermilk, mustard, rosemary and garlic, salt and pepper. Immerse chicken in marinade for 4 hours or overnight, refrigerated. Remove chicken, shaking off excess liquid; discard marinade.

2 Preheat oven to 375°F (190°C).

3 Combine flour, cornstarch, dry mustard, baking powder and salt and pepper on a flat dish or in a plastic bag. Toss chicken pieces to coat in flour mixture, shaking off excess, and set aside.

4 Heat ¼ cup (60 mL) vegetable oil in a large skillet over high heat. Working in batches, fry chicken until golden, about 2 minutes per side. Remove chicken pieces to a rack set on a baking sheet. Discard oil.

5 Bake chicken until crispy and cooked through, about 10 minutes. Slice in half and keep warm.

6 Soak 6 skewers in water for 30 minutes. Whisk together lemon juice, pepper and olive oil until combined. Season with salt.
7 Preheat barbecue to high.

8 Cut strawberries in half, if large, and toss with balsamic vinegar, adding sugar if they are not sweet enough. Thread onto skewers. Grill about 2 minutes a side or until softened with a little grill marking.
Cool and slide off skewers. Combine with lettuce and pistachios. Gently toss with lemon dressing. Crumble in goat cheese. Pile chicken on top of salad.
SHARE