Strawberry-Rhubarb-Pie Ice Cream
Summer 2013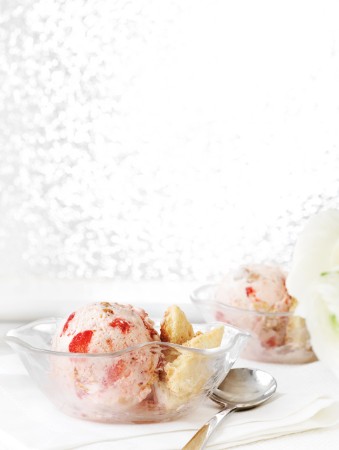 Strawberry-Rhubarb-Pie Ice Cream
Summer 2013
BY: Christopher St. Onge
If you're a fan of strawberry-rhubarb pie (and who isn't?!) you'll love this ice cream. Using crimson field rhubarb and strawberries ensures a pretty pink treat.
1 egg yolk
Pinch salt
1 cup (250 mL) cake & pastry flour
¼ cup (60 mL) sugar
¼ cup (60 mL) cold, unsalted butter cut into pieces
1½ cups (375 mL) washed, hulled and chopped strawberries
¾ cup (175 mL) sugar, divided
1 cup (250 mL) chopped rhubarb
1 tbsp (15 mL) water
2 eggs
2 cups (500 mL) whipping cream
1 For pastry, preheat oven to 350°F (180°C).

2 In a small bowl, whisk together egg and salt. Set aside.

3 In a food processor, combine flour and sugar. Add butter and pulse until mixture resembles coarse oats. Add whisked egg through feed tube and pulse until mixture begins to clump together.

4 Turn out mixture into a 8-inch-square (20‑cm) baking pan. Press pastry evenly into bottom. Refrigerate until chilled, about 15 minutes.

5 Bake for 20 to 22 minutes or until edges are lightly golden. Cool completely and remove from pan. Using a sharp knife, score down centre and break to create 2 halves. Working with one-half of pastry, break into small, bite-size pieces; transfer to a small bowl and place in freezer. Score remaining half into 12 equal pieces and break apart; tightly cover and keep at room temperature until ready to serve alongside ice cream.

6 For ice cream, toss strawberries with 2 tbsp (30 mL) sugar in a large heatproof bowl. Place rhubarb, 2 tbsp (30 mL) sugar, and 1 tbsp (15 mL) water in a small saucepan over medium heat; cook for 10 to 12 minutes or until rhubarb has broken down. Pour, while still hot, over strawberries; toss, cover and refrigerate until chilled, about 2 hours.

7 In a separate, large heatproof bowl, whisk eggs with remaining ½ cup (125 mL) sugar. Heat cream to steaming in a medium saucepan over medium heat. Whisking constantly, pour whipping cream in a slow and steady stream into egg mixture; return to saucepan set over medium-low heat. Stir until thickened and mixture coats back of a spoon. Turn out into a bowl, cover and refrigerate until chilled, about 2 hours.

8 Combine chilled strawberry mixture with chilled cream mixture. Churn in an ice cream maker according to manufacturer's instructions. Fold in frozen pastry pieces and transfer ice cream to a resealable plastic container; freeze until firm.

9 Serve scoops alongside a couple pieces of reserved pastry.
SHARE